A San Francisco una casa del 1974 trasformata in un'elegante sinfonia di legno e colore: la Redwood House di Noe Valley span> è stato modificato: 2023-09-16 span> di
Studio Terpeluk trasforma una casa del 1974 a San Francisco, mescolando con maestria legno di sequoia e colori audaci. La casa ora offre uno spazio accogliente e contemporaneo, celebrando l'arte, il design e l'integrazione con il paesaggio circostante.
Nelle pittoresche colline di Noe Valley, San Francisco, una casa degli anni '70 ha subito una ristrutturazione magistrale ad opera dello Studio Terpeluk, una firma di design architettonico rinomata per la sua capacità di fondere l'eredità storica con un'estetica contemporanea. Questa casa, denominata Redwood House, è stata originariamente progettata da Albert Lanier, un famoso architetto di San Francisco, e ha rappresentato un progetto di ristrutturazione complesso e stimolante per lo studio.
Il quartiere di Noe Valley, noto per le sue strade fiancheggiate da affascinanti case vittoriane ed edoardiane, è stato lo sfondo perfetto per questa ristrutturazione. La casa è situata su dolci pendii, circondata da giardini privati e lussureggiante vegetazione. La richiesta del proprietario era chiara fin dall'inizio: ampliare lo spazio abitativo senza compromettere l'originale design architettonico della casa, caratterizzato da geometrie angolari, legno di sequoia e cortili esterni. Lo Studio Terpeluk ha risposto a questa sfida con maestria, riuscendo a far crescere la casa da 210 a 299 metri quadrati, aggiungendo una nuova suite per gli ospiti, un ufficio a casa, un bar e una sala multimediale.
Uno degli aspetti più sorprendenti di questa ristrutturazione è l'uso sapiente del legno, in particolare del cedro rosso occidentale e del legno di sequoia. Le facciate della casa e i cortili a cascata sono stati rivestiti con assi irregolari di cedro rosso occidentale, creando un look visivo unico che abbraccia l'intera struttura. Il legno di sequoia, invece, è stato utilizzato per travi del tetto inclinate, pareti divisorie e scaffali incorporati, conferendo un caldo e accogliente paesaggio interno.
All'ingresso della casa, un cortile intimo pavimentato con calcestruzzo preconfezionato e decking in legno di sequoia segna l'ingresso principale. Al piano superiore, uno spazio open space è caratterizzato da tavole di douglas fir nodate scure, realizzate con pali del molo di San Francisco recuperati localmente. Questo spazio è aperto e accogliente, con superfici in legno di sequoia che conferiscono un tocco naturale e caldo.
Uno degli aspetti più sorprendenti del design interno è l'uso audace del colore. Il fondatore dello Studio Terpeluk, Brett Terpeluk, ha collaborato con la designer Beatrice Santiccioli per creare un linguaggio di colori dedicato e su misura per il progetto. Questo ha portato a una vivacità e una personalità uniche nella casa, ispirate alla squisita collezione d'arte dei proprietari e al design italiano degli anni '50 e '60.
Oltre agli interni, lo Studio Terpeluk ha anche preservato una connessione con il paesaggio circostante. La designer paesaggistica italiana Monica Viarengo ha progettato le aree esterne, creando un rifugio verde che cambia da curato a selvaggio man mano che ci si sposta per la proprietà. Le terrazze del giardino sono piantate con piante native della California e specie in fiore che attirano gli impollinatori, contribuendo a mantenere un equilibrio con l'ambiente circostante.
La Redwood House è un esempio straordinario di come il design contemporaneo possa rispettare e valorizzare l'architettura storica. Lo Studio Terpeluk ha mescolato sapientemente il legno di sequoia degli anni '70 con un linguaggio di colori audaci e un'attenzione scrupolosa ai dettagli, creando una casa senza tempo che celebra l'arte dell'architettura e del design. Questo progetto rimane un tributo alla bellezza delle colline di San Francisco e alla creatività senza limiti.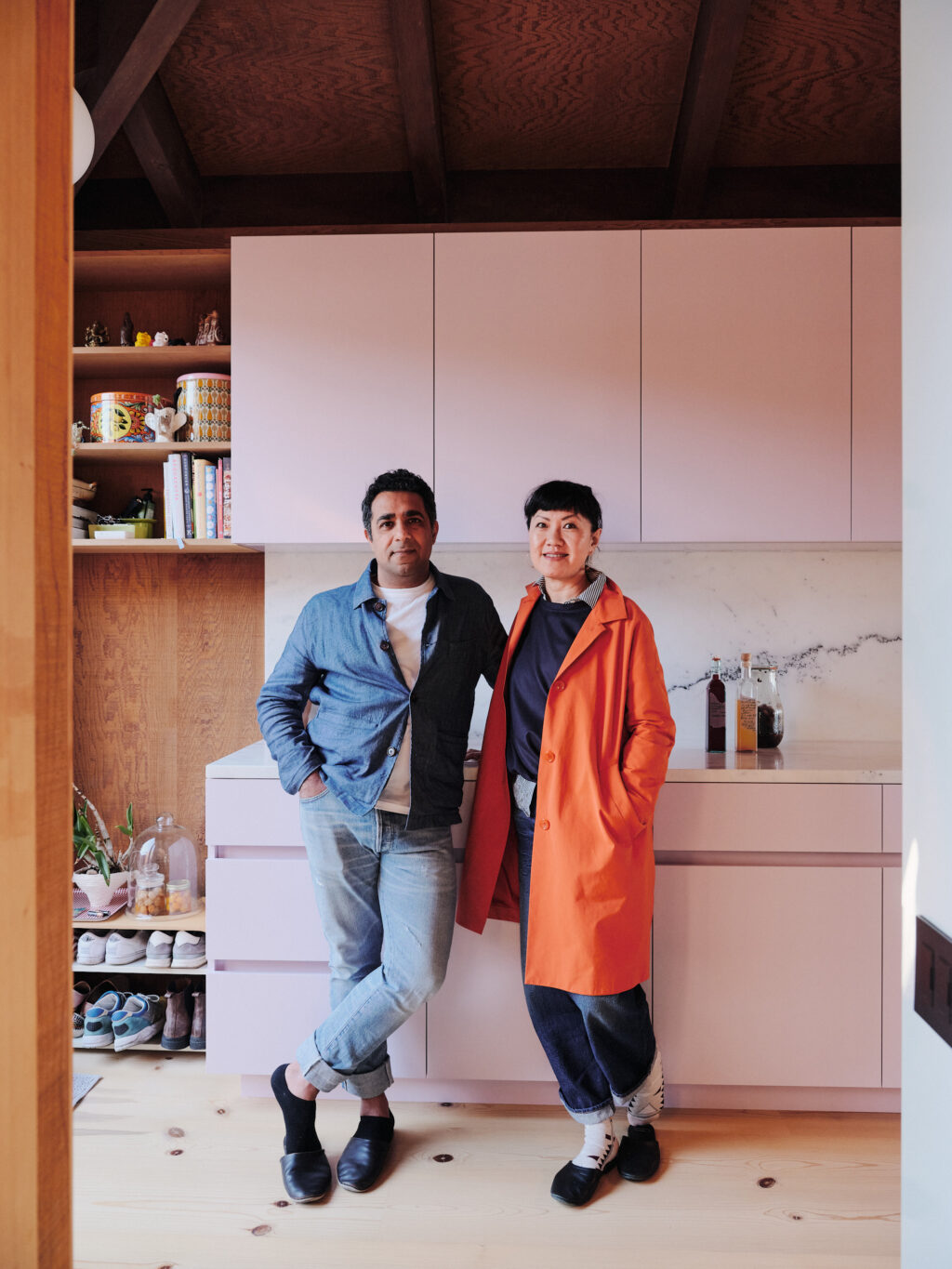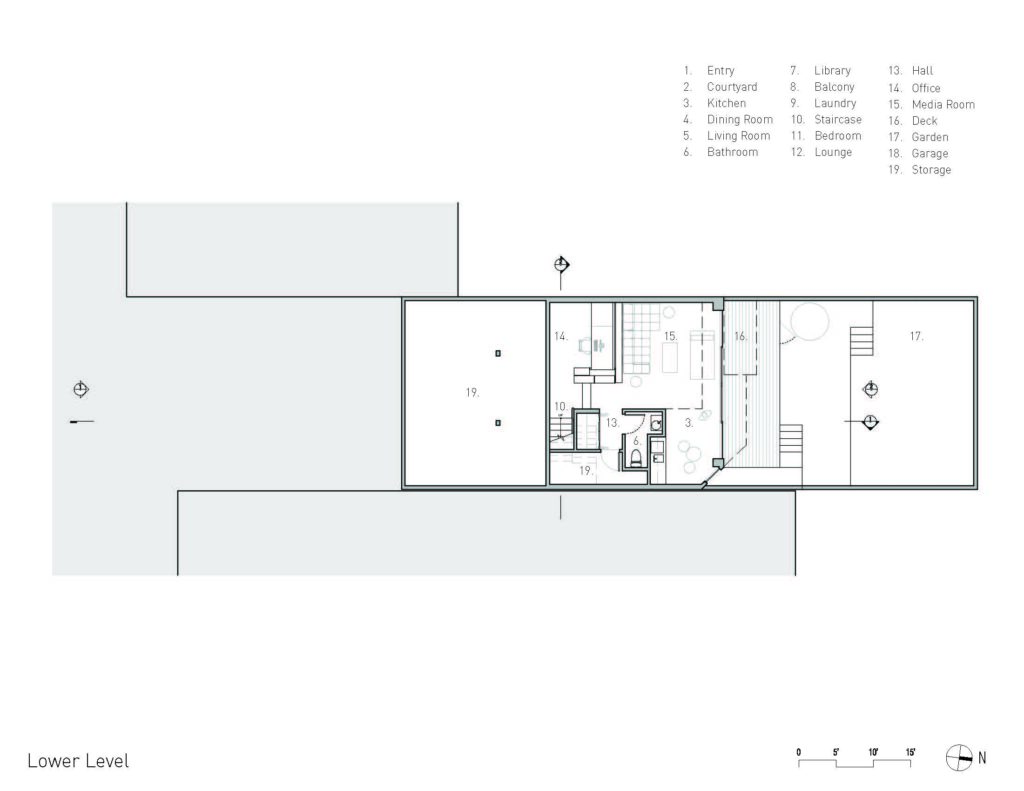 Project info
PROJECT NAME: Redwood House
LOCATION: Noe Valley, San Francisco (California, USA)
ARCHITECT: Studio Terpeluk
PROJECT TEAM: Brett Terpeluk, Huy Nguyen
LANDSCAPE DESIGN: Monica Viarengo
COLOR CONSULTANT: Beatrice Santiccioli
CLIENT: Gagan and Jasmin Arneja
DATE: January 2022
GFA: Existing: 210 mq, New: 299 mq
CONTRACTOR: Saturn Construction
STRUCTURAL ENGINEERING: Strandberg Engineering
SUPPLIERS
Furniture: Santiccioli Arredamenti
Orama sliding window systems: Cooritalia
Windows: Bonelli
Wood reclaimed wood flooring: Arborica
Metal fabrication: Upper Story Design
Drapery/upholstery: Malatesta & Co
Art: Catharine Clark Gallery
ART
Entry vestibule:
Collage by Jasmin Arneja "Gioco Temporale"
Library:
Photograph by Tania Franco Klein
Painting by Diane Ding
Dining area:
Photograph by Hai Bo
Living room:
Sculpture by Wanxin Zhang "Made in China"
Sculpture by Annabeth Rosin
MATERIALS
EXTERIOR ELEVATIONS
Random width Western red cedar rainscreen cladding. Natural finish (front elevation). Painted exterior plywood (back elevation). Painted Stucco (courtyard)
FLOORS
Custom Douglas fir engineered wood flooring made from reclaimed San Francisco pier pilings, Hand-troweled concrete slab with integral Davis color, terrazzo (primary bathroom), Micro Mosaic recycled plastic tiles (secondary bathroom).
WINDOWS
Orama aluminum and sliding glass (low-iron extra clear glass)
Bonelli fixed and casement (low-iron extra clear glass)
INTERIOR FINISHES
Vintage rough-sawn redwood veneered plywood, Micro Mosaic recycled plastic tiles (secondary bathroom floor/walls – primary bathroom walls). Skim-coat plaster (stair walls, powder room walls). Custom paint colors (walls/ceilings), Custom lacquer colors (millwork), carrara 'Michelangelo' marble (kitchen counter and backsplash)
EXTERIOR FINISHES
2×6 Redwood (exterior decks), cast in place concrete with integral davis color – broom finish (exterior steps and pavers)
COLORS
Arctic Ice (guest room closet, lower level cabinets)
Eggplant (bedroom low cabinet)
Lemon Curry (triangular cabinet)
Nimbus Cloud (middle level doors, painted walls)
Orchid Tint (kitchen cabinet)
Peignoir N.286 Farrow & Ball (powder room walls)
Vapore (kitchen divider cabinet)
Wimborne White (walls and ceilings)
PHOTOGRAPHER
©Joe Fletcher