Foster and Partners / Residence Chesa Futura in St. Moritz, Svizzera span> è stato modificato: 2012-08-08 span> di
L'edificio per appartamenti Chesa Futura a St. Moritz, di Foster and Partners, è stato progettato unendo tecnologie all'avanguardia e tradizione antica. In fase di progettazione sono stati usati programmi avanzati di disegno tridimensionale cad per ottenere una forma molto innovativa. A livello costruttivo si è fatto ricorso da un lato ad una struttura in legno lamellare e acciaio, dall'altro a tecniche costruttive tradizionali per quanto riguarda il rivestimento in legno, materiale conforme a criteri di sostenibilità ambientale. Il suo utilizzo, se fatto in maniera sensibile, può contribuire alla rigenerazione forestale, stabilendo di abbattere gli alberi più vecchi e di sostituirli con essenze giovani.
L'edificio è costituito da tre piani e due livelli sotterranei adibiti a parcheggio. La sua forma arrotondata è una risposta alla conformazione del territorio ed alle condizioni climatiche locali. Permette di evitare un'apparenza massiccia e contemporaneamente di avere ampia vista panoramica sulla valle e sul lago di St. Moritz. La struttura è sollevata dal suolo ed appoggiata su otto pilotis in acciaio: fa parte della tradizione svizzera che le costruzioni in montagna siano staccate dal suolo, per ovviare al problema della neve che si deposita nei mesi invernali. La forma è stata perfezionata con un programma che unisce pianta e alzato del progetto per creare un volume tridimensionale.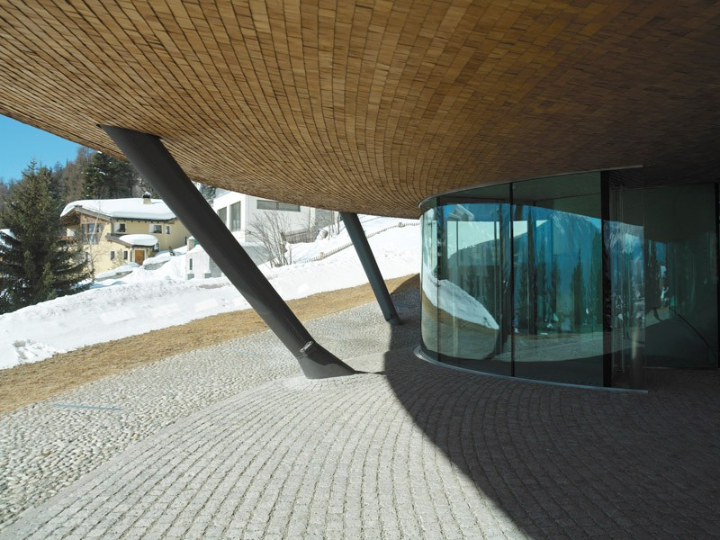 Le informazioni digitali ottenute sono state direttamente trasferite agli strumenti di taglio per la realizzazione dei modelli di studio e successivamente alle macchine con cui sono stati lavorati i componenti costruttivi in legno.
Il telaio dell'edificio è costituito da una struttura di sostegno in acciaio e da travi in legno lamellare di 6 o 7 metri di lunghezza. Le tegole in larice che formano la pelle esterna dell'edificio sono state lavorate dalle mani di artigiani che hanno un'esperienza derivata dalla tradizione nell'uso del legno lunga generazioni. Queste tegole provengono da alberi che si trovano alla stessa altitudine del sito dell'intervento e sono state tagliate durante l'inverno, quando il legno è secco e privo di linfa, in modo che non si restringano. Nel tempo cambieranno la propria colorazione ed appariranno come parte integrante del paesaggio. La copertura dell'edificio è in rame, anch'esso materiale di antica tradizione locale perché è sufficientemente malleabile per essere posato in opera anche quando la temperatura si abbassa.
L'edificio è aperto all'ingresso della luce solare attraverso i balconi verso sud, mentre è chiuso a nord dove si affaccia sulle montagne ed è esposto ai venti freddi. Una maggiore inerzia termica dei tamponamenti su questo lato contribuiscono ad aumentarne l'isolamento. La forma curva permette alle finestre di avvolgersi attorno alla facciata, proporzionando le viste panoramiche sul lago e sulle montagne circostanti.