DuPont annuncia i vincitori del concorso internazionale di architettura "Changing the Face" span> è stato modificato: 2014-01-03 span> di
I vincitori della settima edizione del concorso internazionale di architettura "Changing the Face" sono stati appena annunciati dagli organizzatori della competizione: DuPont, PKO Bank Polski, l'Unione degli Architetti Polacchi e la filiale polacca del Green Building Council.
L'obiettivo del concorso era quello di progettare il rinnovamento della Rotunda di Varsavia, uno dei simboli contemporanei della città, tenendo conto di severe linee guida, tra cui quella di progettare un edificio con all'interno un luogo adibito ad attività culturali e uno spazio urbano aperto al pubblico. I progetti dovevano essere ideati considerando l'utilizzo di materiali di DuPont come la tecno-superficie DuPont™ Corian®, le membrane traspiranti per l'edilizia DuPont™ Tyvek®, i geotessili per architettura paesaggistica DuPont™ Plantex®, le vernici DuPont™ Teflon® e l'interstrato DuPont™ SentryGlas® per vetro stratificato di sicurezza.
La giuria ha convenuto all'unanimità che il progetto che verrà realizzato, vincitore del primo premio, sarà quello ideato dal team di architetti polacchi di Cracovia, Gowin-Suita. Il progetto vincitore ha soddisfatto tutti i criteri stabiliti dal concorso, mantenendo fedelmente la forma originaria della Rotunda, e allo stesso tempo, definendo uno spazio architettonico e urbano caratterizzato dai massimi standard estetici e utilizzo funzionale.
PKO Bank Polska prevede di avviare nelle prossime settimane le trattative con i vincitori per l'attuazione del progetto. "Il progetto vincitore garantirà la sostenibilità dell'originale Rotunda, accanto alla creazione di un edificio moderno destinato alla PKO Bank Polska e alla comunità," ha affermato Włodzimierz Sobon, Strategic Program Manager di DuPont. "L'utilizzo di soluzioni innovative, come DuPont™ SentryGlas® e DuPont™ Corian® implicherà il ripristino in tutta sicurezza della trasparenza dell'edificio, e un ritrovato splendore della facciata, portando potenzialmente all'acquisizione di certificazioni di edilizia sostenibile," ha continuato Sobon.
La Rotunda costituisce uno dei punti di riferimento culturale di Varsavia e per tale motivo, PKO Bank Polska ha deciso di destinare una parte dell'edificio ad uso urbano o pubblico. Durante le consultazioni pubbliche tenutesi in aprile e maggio 2013, sono stati presentati più di 10.000 questionari, compilati dagli abitanti di Varsavia, contenenti suggerimenti per l'uso dello spazio urbano all'interno della Rotunda. I risultati della consultazione sono stati riportati in una relazione e sono stati integrati nei requisiti richiesti a tutti i partecipanti al concorso. La competizione ha suscitato l'interesse di architetti in tutto il mondo. Sono state infatti registrate 1040 squadre provenienti da 79 paesi e sono stati ricevuti 214 progetti. 10 invece sono stati quelli selezionati per la seconda fase, la finale.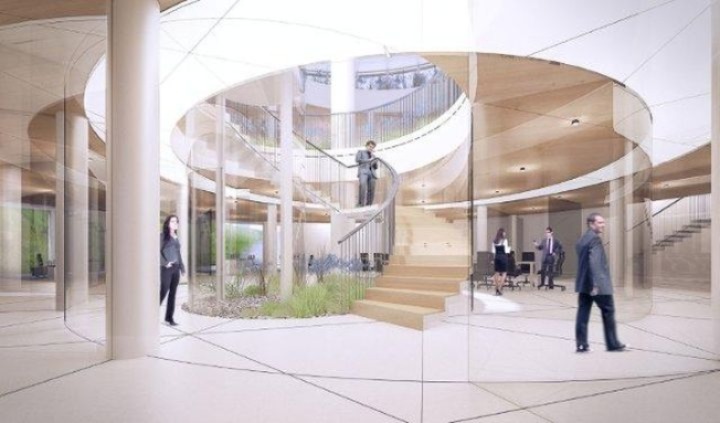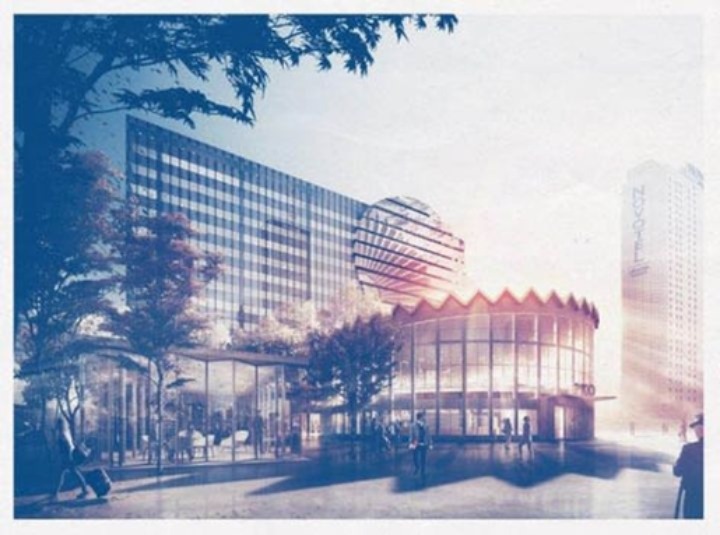 Maggiori dettagli sul progetto vincitore:
La pavimentazione della piazza prevede divisioni in griglie regolari che si estendono fino alla strada, fornendo una cornice visiva che mette in risalto la banca.
Sul lato della piazza è presente un verde rigoglioso .
L'originale sistema di illuminazione integrato nella pavimentazione della piazza, crea la
sensazione di intimità di un ambiente interno, e dona un senso di continuità mantenendo la stessa altezza delle pensiline della vicina passeggiata Wiecha.
Gli uffici bancari del rivitalizzato edificio la Rotunda saranno ubicati al piano terra e nel
seminterrato.
Un "Urban Saloon" della grandezza di tutto il primo piano dell'edificio, avrà la funzione di spazio pubblico. I quasi 500 m2 di spazio permetteranno l'attuazione delle idee dei cittadini di Varsavia, presentate nel corso delle consultazioni pubbliche, tra cui:

– un punto informativo multimediale su eventi culturali,
– un luogo per rilassarsi o incontrarsi,
– una galleria d'arte a ingresso libero,
– una caffetteria.
L'elenco completo dei vincitori del concorso:
La giuria ha assegnato quattro premi principali, una menzione speciale e cinque menzioni ex aequo:
1° PREMIO – 15.500 dollari
Autori: Bartłomiej Gowin, Krzysztof Siuta (Gowin-Siuta; Polonia)
Associati: Ewa Gawron-Szpener Msc Eng. Arch. (visualizzazione), Wiesław Bereza MSc. Eng. KBProjekty Konstrukcyjne (consultazioni strutturali)
2° PREMIO EXAEQUO – 6.600 dollari
Autore: Natalia Wilczak (Polonia)
2° PREMIO EXAEQUO – 6.600 dollari
Autori: Rodrigo Garcia, Maciej Siuda, Gonzalo del Val (Spagna – Polonia)
3° PREMIO – 5.800 dollari
Autori: Maciej Dobosz, Jolanta Major, Izabela Owczarek, Karolina Kalitan (Dobosz Architekci; Polonia)
Menzione speciale – 5.800 dollari
Autori: Güntler Hatherl, Adrian Ukleja, Martin Sladek (Caramel Architekten ZT GmbH, Austria)
Menzione speciale – 5.800 dollari
Autori: Güntler Hatherl, Adrian Ukleja, Martin Sladek (Caramel Architekten ZT GmbH, Austria)
Menzioni exaequo – 5.000 dollari
· White: Małgorzata Kosieradzka, Karin Hedlund, Andreas Laessker, Jeroen Mattijssen, Maria Norberg, Jajsa Sperling, Britta Wikholm, Marie Claude Dubois (Svezia)
· Joan Riera Jaume, Mireia Cabani Massip, Isabel Mestre Bauzà, Manel Garcia Ramis (Spagna)
· Dorell.Ghotmeh.Tane/architects: Dan Dorell, Lina Ghotmeh, Tsuyoshi Tane (Francia)
· Grzegorz Brykalski, Maria Brykalska-Karłowska, Stanisław Karłowski, Julia Karłowska (Polonia)
· Pracownia Architektury Głowacki PAG: Tomasz Głowacki, Alicja Sawicka, Małgorzata Bieńkowska (Polonia)
Giuria*
I progetti partecipanti al concorso "CTF 2013" sono stati valutati da una giuria composta da:
· Konrad Kucza-Kuczyński – architetto, filiale di Varsavia dell'Unione Architetti Polacchi (Oddział Warszawski, Stowarzyszenie Architektów Polskich – OW SARP) – Presidente della giuria,
· Andrzej Bulanda – architetto, OW SARP, Michał Łojewski – grafico, creatore della nuova corporate identity di PKO Bank Polski,
· Tomasz Marszałł – Marketing Director di PKO Bank Polski, Maciej Miłobędzki – architetto, OW SARP,
· Marcin Mostafa – architetto, OW SARP,
· Grzegorz Piątek – architetto e critico di architettura (durante le sessioni della giuria, il Capo del Dipartimento di Estetica degli Spazi Pubblici per il municipio di Varsavia)
· Rafał Schurma – architetto, Polish Green Building Council,
· Włodzimierz Soboń – Strategic Programmes Manager di DuPont,
· Mateusz Świętorzecki – architetto, OW SARP.
I progetti vincitori e quelli che hanno raggiunto le fasi finali possono essere ammirati presso l'edificio la Rotunda fino al 31 dicembre 2013, nonché visitando il sito ufficiale del concorso: www.ChangingTheFace.com