Centurion Palace Hotel: stile contemporaneo a cinque stelle nel cuore di Venezia span> è stato modificato: 2013-10-07 span> di
Eclettismo, contrasto tra contemporaneo e moderno, stile raffinato e ricerca nei dettagli: sono queste le caratteristiche che rendono il Centurion Palace di Venezia, hotel cinque stelle lusso della catena Sina Fine Italian Hotels, un vero e proprio punto di riferimento per gli amanti del design e del lusso a Venezia. L'Hotel, con accesso diretto al Canal Grande grazie al pontile privato, è situato nell'opera ottocentesca anticamente conosciuta come Palazzo Genovese, a Dorsoduro, nell'area di uno dei chiostri del monastero di San Gregorio (seconda metà del 1100), tra le zone più antiche di Venezia.
Realizzato nel 1892 dall'Architetto Trigomi Mattei in stile goticoveneziano, Palazzo Genovese, fu costruito in mattoni con l'aggiunta della pietra d'Istria, seguendo l'architettura della città e riproponendo così i colori della tradizione, il rosso e il bianco. In particolare, la sua struttura ricorda il classico schema delle "case a torricelle", tipiche delle famiglie dei mercanti: un corpo centrale affiancato da due blocchi laterali con una maestosa "porta da acqua". Le numerose finestre che si affacciano sul Canal Grande creano un gioco di chiaroscuri, mentre la facciata posteriore è arricchita da numerosi rilievi scultorei.
Il Centurion Palace cela, come un merletto sapientemente lavorato, la personalità moderna ed eclettica degli interni, dal design deciso, dai colori forti e dalle atmosfere uniche. Al suo interno, infatti, la creatività e il talento dell'Architetto Guido Ciompi hanno reso possibile il connubio tra stile classico e contemporaneo. Gli ambienti particolari, il design esclusivo, i materiali ricercati e i colori suggestivi in cui dominano il cioccolato, l'arancio, il rosso e il bianco sono impreziositi da una raffinata impronta veneziana.
Acquisito da Sina Fine Italian Hotels per trasformarlo in albergo cinque stelle lusso, il Palazzo è stato oggetto di un meticoloso restauro a cura dell'Architetto Luciano Parenti. «L'edificio – spiega il General Manager, Paolo Morra – testimonia un sottile legame tra la città dei Dogi e la capitale: durante i lavori di scavo è stata rinvenuta una moneta romana, ora custodita dalla Soprintendenza dei Beni Archeologici. La moneta raffigura il volto di Antinoo, personaggio divenuto famoso per la profonda amicizia che lo legava all'imperatore romano Adriano, cultore dell'arte classica. Proprio in onore di questo ritrovamento la proprietà decise di dedicare il ristorante e il bar al giovane bitinese».
Diretto dal General Manager Paolo Morra e appartenente all'esclusivo "Small Luxury Hotels of the World", il Centurion Palace offre un design a cinque stelle, proprio nel cuore artistico di una delle città più romantiche e magiche al mondo. E' situato in una posizione strategica, proprio nel triangolo della cultura di Venezia, tra il Museo di Punta della Dogana della Fondazione François Pinault, Palazzo Grassi e Palazzo Venier dei Leoni, quest'ultima sede della Peggy Guggenheim Collection. Inoltre, l'unicità della sua ubicazione è data anche dalla vicinanza ad altri importanti luoghi di Venezia: tra la magnifica Basilica di Santa Maria della Salute e le Gallerie dell'Accademia di Venezia.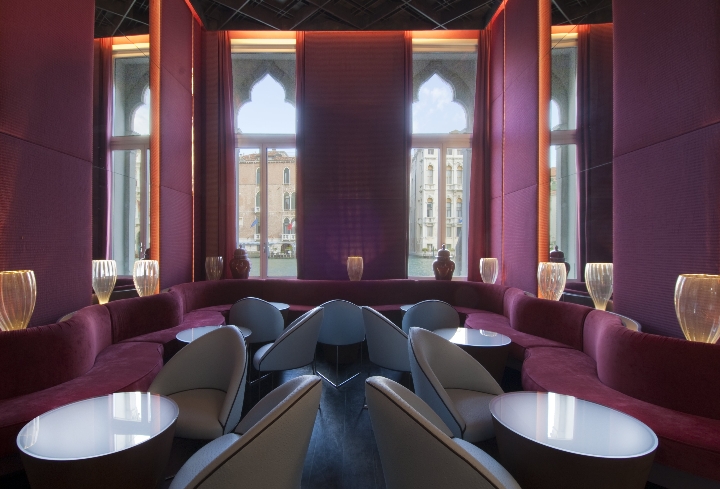 Luxury, grande charme e raffinata eleganza sono le caratteristiche principali che contraddistinguono lo stile di questo Hotel. Ogni elemento d'arredo, infatti, è stato studiato nei minimi dettagli. Sono presenti numerosi pezzi unici realizzati con materiali ricercati e tessuti preziosi. Le 50 camere e suite sono tutte diverse una dall'altra, grazie anche alla scelta degli arredi creati con l'utilizzo di tessuti diversi. Impreziosiscono le stanze camini e soffitti a cassettoni, scale in legno, materiali ricercati per i pavimenti, bagni nei quali spicca la foglia d'oro alle pareti in resina.
La suite presidenziale è unica per le generose dimensioni: gode di una spettacolare vista sul Canal Grande, ed è composta da due camere da letto, ciascuna dotata di bagno privato, un grande salone e le tipiche balconate. L'arredamento in stile contemporaneo crea l'ambiente ideale per un soggiorno speciale, con la possibilità di ospitare anche piccoli ricevimenti. Per le riunioni, il Centurion Palace offre sale adatte per piccoli eventi che possono essere organizzati anche all'aperto durante la bella stagione e, per il benessere, una palestra all'ultimo piano.
Contrasto tra antico e moderno anche per l'Antinoo's Lounge & Restaurant, l'esclusivo ristorante affacciato sul Canal Grande, dove si può assaporare il gusto contemporaneo di Venezia. Premiato, per il secondo anno consecutivo, con le "quattro forchette rosse", attribuite dalla Guida Michelin, l'Antinoo's propone un menù ispirato alla tradizione culinaria veneziana rivisitata con guizzo e creatività dall'Executive Chef, Massimo Livan che afferma: «Venezia, la sua storia e la sua tradizione culinaria sono grandi fonti d'ispirazione. Spesso parto dallo studio di ricette della cucina della Serenissima per poi rivisitarle, reinterpretandole con uno stile moderno».
Anche qui, non mancano eleganza, design e suggestioni: una vera e propria cornice rende il bar come un quadro da ammirare seduti sull'originale divano ondulato color porpora, mentre il colore bianco, nelle sue diverse sfumature, avvolge il ristorante da cui è possibile contemplare lo spettacolo del Canal Grande.