HI-MACS a Maison & Objet e 100% Design con 'Leaf' e 'The Sky is the Limit' span> è stato modificato: 2014-08-05 span> di
A settembre Maison & Objet e 100% Design apriranno le porte al design, alle idee e alla creatività.
In queste occasioni, LG Hausys, ormai un riferimento fondamentale nel mondo dell'architettura e del design, presenterà le sue due ultime creazioni nel settore kitchen, 'Leaf' e 'The Sky is the Limit', interamente realizzate in HI-MACS®, la Pietra Acrilica di Nuova Generazione.
Lasciatevi stupire dal loro design elegante, semplice e organico!
la cucina 'Leaf' di LG Hausys un'isola interamente realizzata in HI-MACS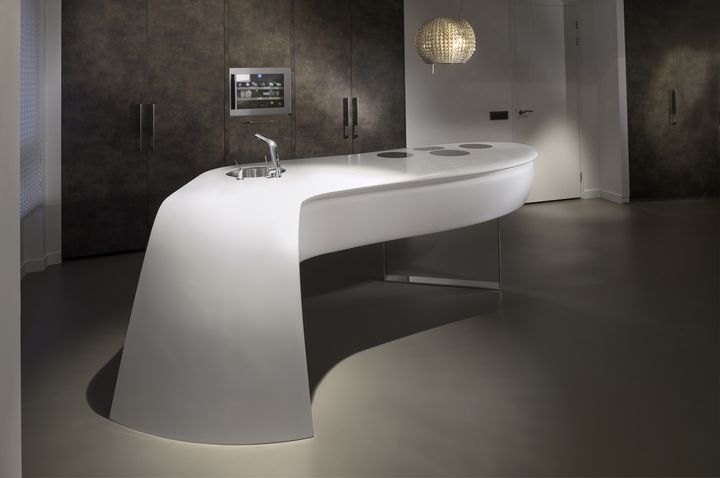 La cucina LEAF cattura gli sguardi di chi ama le linee pulite e il design organico. Per la realizzazione di quest'ultima creazione in HI-MACS, la fonte di ispirazione della ditta olandese Culimaat, come richiamato dal nome ('Foglia') è stata la natura.
Questa cucina dal design estremamente contemporaneo non segue linee geometriche bensì sfoggia una forma organica squisitamente arrotondata.
Diversamente dalle cucine tradizionali, LEAF è stata progettata come uno spazio aperto, arioso ed ergonomico. Poiché le condutture idrauliche, i cavi e le altre componenti tecniche sono aspetti vitali per la progettazione di ogni cucina, Culimaat si è concentrata sulla riorganizzazione dello spazio con un approccio fuori dagli schemi. Ciò ha portato all'integrazione di ante continue realizzate in HI-MACS, con caratteristiche uniche, come i cassetti dotati di dispositivo di apertura e chiusura elettronica.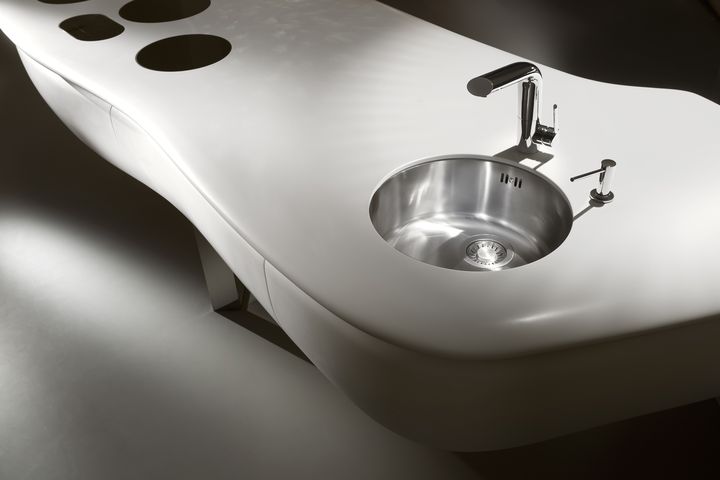 Il piano cottura integrato è totalmente piatto e dotato di una superficie speciale con tecnologia touch. La base rotonda del lavandino in acciaio inox crea un effetto di perfetta continuità con il piano di lavoro. Le dispense sono state ricavate nei mobili a parete, dove sono installati anche altri elettrodomestici: il forno, il forno a vapore, la lavastoviglie, il frigorifero e la cantinetta frigo per il vino.
"Leaf" viene prodotta da Culimaat High End Kitchens
Culimaat è un'azienda con sede a Berlicum (vicino a 's-Hertogenbosch) nei Paesi Bassi, che dal 1985 progetta e produce cucine e arredamento di interni di alta qualità. Ogni creazione Culimaat è unica, progettata e fabbricata appositamente per rispondere alle esigenze e alla personalità degli utenti. Ogni realizzazione si integra perfettamente con il carattere della casa, nello spazio disponibile, adattandosi alle modalità d'uso richieste dal cliente.
Culimaat bv, De Enst 7, Berlicum, Paesi Bassi, info@culimaat.nl www.culimaat.nl
Fotografia : © René van Dongen
MAISON & OBJET Settore PROGETTI – Padiglione 7 – B2-C1
'The Sky is the Limit', quando l'unico limite è il cielo!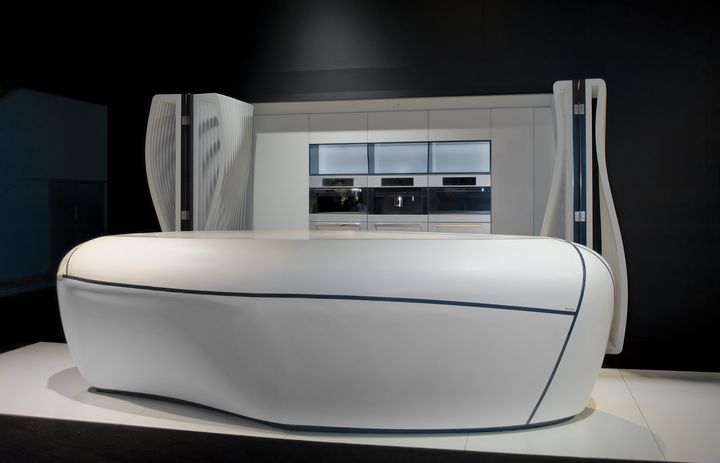 La cucina a isola 'The Sky is the Limit' è una vera e propria opera d'arte del designer belga Xavier Bonte, la cui ispirazione è stata data dal sogno di una grande nuvola nel cielo. Quando tutte le ante della cucina sono chiuse, infatti, la 'tecnicità' dell'isola scompare per lasciare spazio alle linee blu, che creano un forte contrasto con il bianco ed evocano l'effetto inverso delle scie degli aerei sul cielo turchese.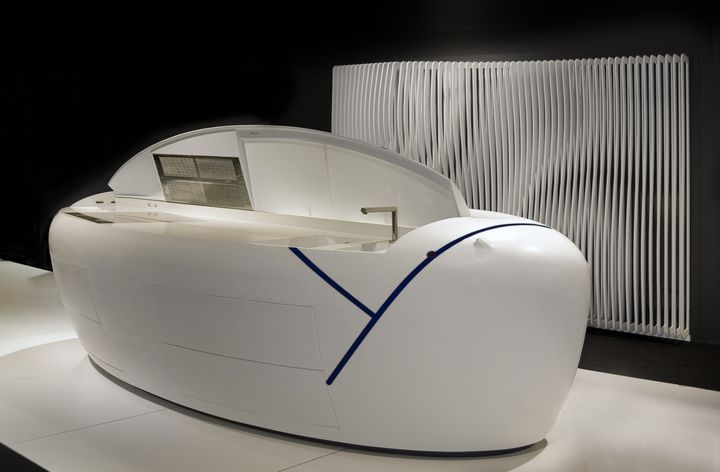 Grazie alla flessibilità della Pietra Acrilica di Nuova Generazione HI-MACS, nella struttura curva è stato possibile incorporare un piano cottura a induzione, quattro cassetti, un doppio lavello e un rubinetto che compare automaticamente con l'apertura del piano. Il top dell'isola è dotato di un dispositivo di apertura e chiusura elettronica con controllo a distanza. Quando aperto, mostra nella sua struttura una tecnologica cappa filtrante.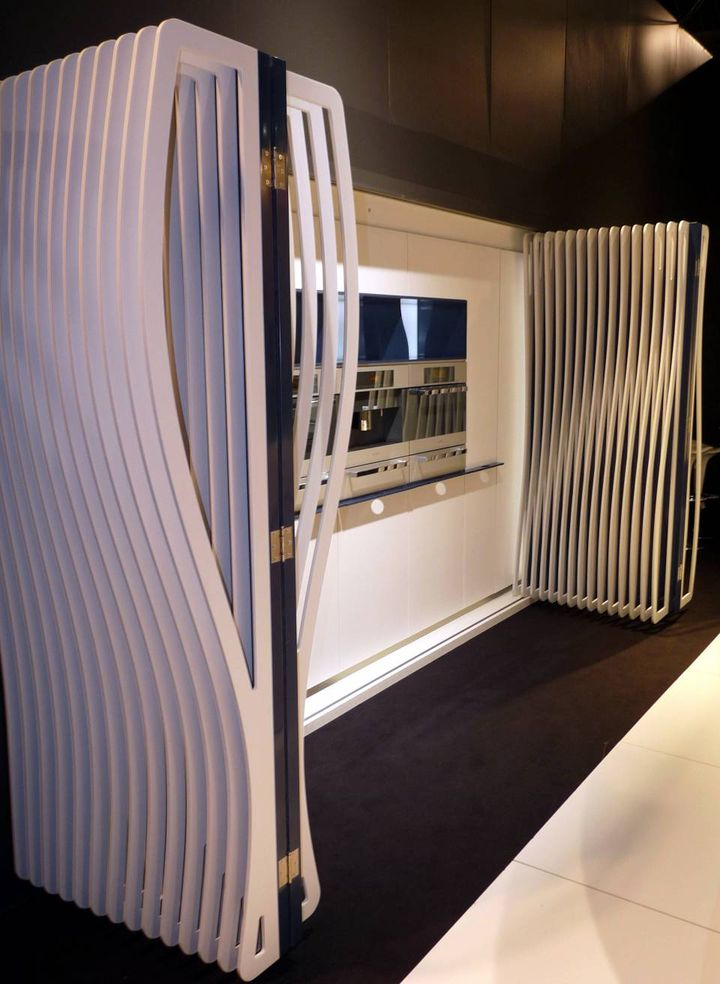 La credenza, in HI-MACS lucido Lucent Opal enfatizza ulteriormente l'aspetto innovativo e lo stile di questa cucina. 'The Sky is the Limit', infine, è dotata di un tavolo rientrante opposto per pasti veloci e snack.
L'armadio a parete a forma di onda è costituito da 4 porte a fisarmonica che svelano i mobili a colonna incassati nella parete e nei quali sono integrati il frigorifero, la lavastoviglie, il forno a vapore, la macchina per il caffè, il forno combinato, i cassetti riscaldanti, il cassetto dei medicinali e le dispense.
Realizzazione di TMA-Production
Fotografia: Jean-Pol Hottard e Fanny Grandclaudon
HI-MACS® alla Fiera 100% Design
Stand K212 – Settore "Kitchens & Bathroom"
17-20 settembre 2014 Earls Court Londra