DO THE MUTATION / 3D COLLAGENE MASK span> è stato modificato: 2013-04-10 span> di
COLLAGENE è un software scritto per creare maschere adattive e personalizzabili, il nostro futuro è fatto di plastica e esce fuori gradualmente da una stampante 3D.
Il progetto COLLAGENE, sviluppato da DO THE MUTATION , esplora il confine tra fisico e virtuale, il collegamento tra il codice di astrazione del computer con la dimensione intima, viscerale dell' alterazione del corpo insito nel tema della maschera.
L'anatomia topografica del viso agisce come input per algoritmi che generano le fibre che formano l'oggetto, creando una formazione materiale che dopo la stampa 3D si adatta perfettamente al suo territorio, i volti delle persone. Le maschere sono prodotte come pezzi unici, attraverso la stampa 3D e WINDFORM materiali forniti dalla CRP GROUP .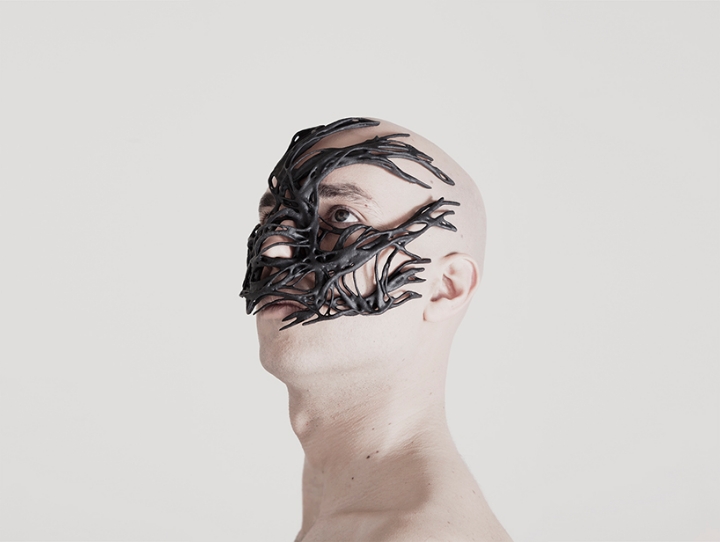 WINDFORM LX 2,0 è il materiale scelto per questo stato-of-the-art applicazione del design generativo ed è un nero a base di poliammide materiale rinforzato con fibra di vetro usato nei campi ad alte prestazioni dal motorsport all'industria aerospaziale.
E' esteticamente gradevole, in grado di conservare nel tempo le caratteristiche cromatiche, mostrando importanti caratteristiche meccaniche che permettono di creare geometrie molto complesse evitando il rischio di rotture o deformazioni.