FABRICA / Next Cabane span> è stato modificato: 2012-02-23 span> di
Next Cabane è la storia della forma di una cabina pieghevole in legno. Piccoli spazi temporanei dove possiamo impostare i nostri confini, cercare rifugio o semplicemente vivere una vita diversa riscoprendo la qualità e la semplicità delle cose. Personali, intimi paradisi in armonia con l'ambiente circostante, riflettono su temi come lavoro, pop-up cultura, la solitudine, giochi. Vivere in maniera alternative e con più consapevolezza, dove il design è al servizio della ricerca di materiali, forme e strutture.
Il concept Next Cabane ha le sue origini in un oggetto trovato, con proprietà molto particolari. È una struttura pieghevole in legno, che si trovava nell'angolo più buio di un mercatino di antiquariato nel nord della Scozia. L'origine di questa struttura non è nota, ma probabilmente ha avuto una vita precedente come tenda pesca. Forse è stata aperta su una riva del fiume e, con l'aggiunta di una tela, utilizzata come riparo dai pescatori. Sia che questa speculazione sia vera o meno, sappiamo che è ormai fuori uso.
I designer di Fabrica sono stati ispirati a far ri-Vive questa struttura stupefacente, esaminando le sue qualità particolari e ri-interpretandole per i contesti contemporanei. Sostanzialmente la struttura è una camera mobile che può essere portata da un posto all'altro.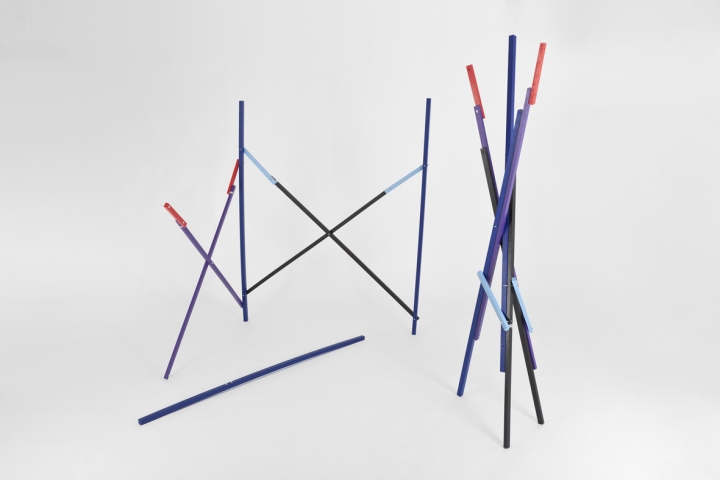 ROD, di Amaury POUDRAY & BRIAN WOOD (2011) La semplice struttura ripiegata è stata decostruita per creare nuovi oggetti funzionali ed elementi scultorei. Ogni componente è stato colorato per essere riconosciuto e per evidenziare il suo valore. La trasformazione rende omaggio alla purezza del volume iniziale.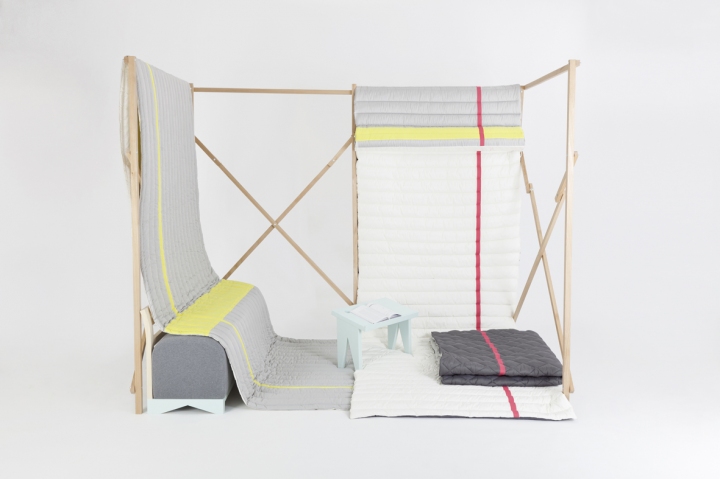 FOLD SOFT di MARIE DESSUANT & MARGAUX KELLER (2011) Fold Soft è uno spazio temporaneo che invita gli utenti a prendersi del tempo per se stessi. Piumini, un tavolo da lettura, una panca bassa e una lampada compongono lo spazio mobile/ibrido. L'armonia dei colori enfatizza questa atmosfera morbida e silenziosa.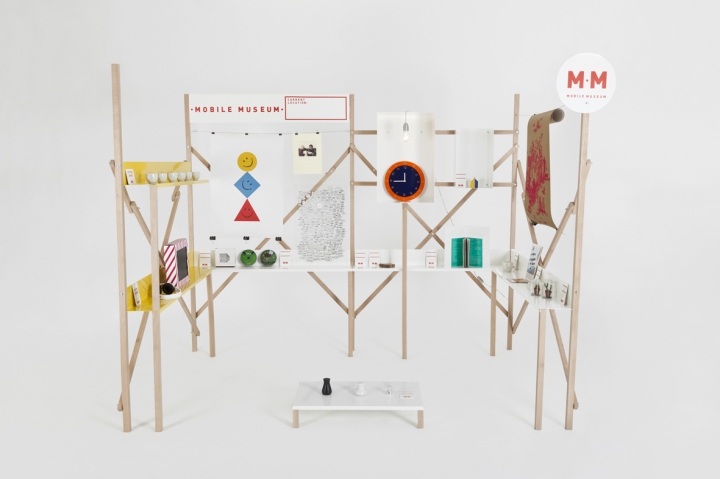 MOBILE MUSEO da Philip BONE & Dean Brown (2011). Il MUSEO MOBILE è un museo itinerante, con contenuti forniti da persone provenienti da tutto ilmondo (anche voi). Diamo il benvenuto a contributi provenienti da contesti diversi. Che tu sia un artista, designer, illustratore, fotografo o altro professionista. A differenza di un convenzionale Museo la collezione è in continua evoluzione, si evolve a seconda della sua posizione, con la stessa posizione a dettare il tema. La prima mostra Mobile Museum ha avuto luogo durante il Salone del Mobile 2011, sotto il tema della "Famiglia". La mostra MM seconda è stata allestita presso il Victoria and Albert Museum. Più recentemente è stato ospitato a Bruxelles come parte del DesignSeptember 2011.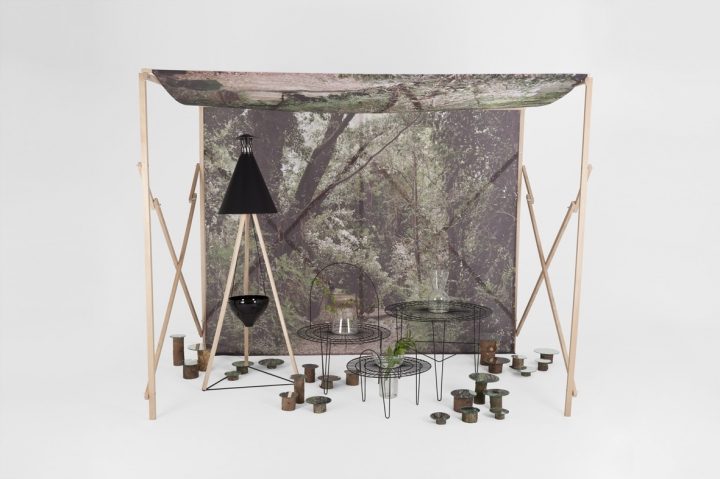 WHATERING THE STORM di CARRETTA VALENTINA & GUSTAVO MILLON (2011). Uno spazio di relax, circondato da un paesaggio plasmato di recente da una violenta tempesta. Uno spazio in cui si possono godere di riflessioni delle pozze di pioggia e accendere un falò, senza il rischio di bagnarsi o bruciarsi. Un'ironica dichiarazione che mostra come l'uomo non potrà mai controllare la natura …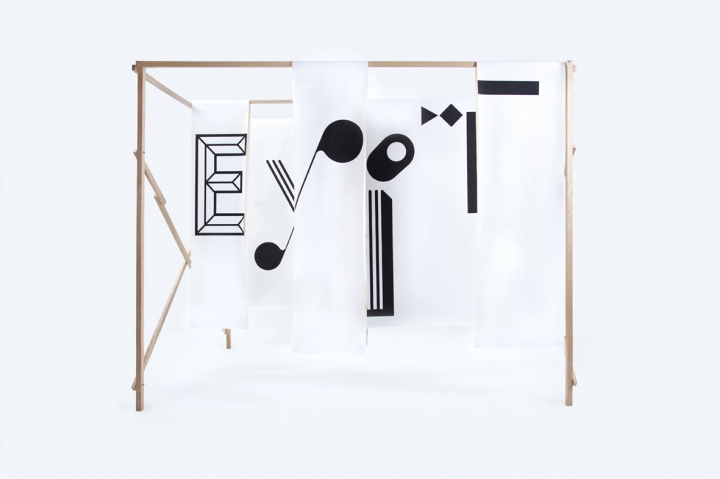 MAZE da CATARINA Carreiras (2011). Un labirinto tipografico è la scusa perfetta per nascondersi dal resto del mondo ed essere accettati dalla la sapienza delle parole. Il carattere è stato fatto in modo che ogni lettera racconta il suo segreto, in una storia di forme, volumi, linee e colori. Con pareti di carta, "Maze" è un "Cabane" che può spostare di volta in volta, a seconda di ciò che vuoi dire.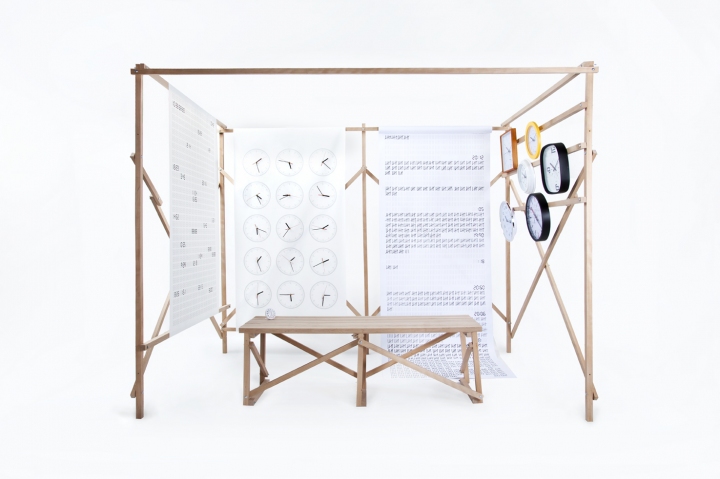 SALA D'ATTESA da Minns KIRSTY (2011). La 'Waiting Room' è come vivere il tempo, per far sentire le persone consapevoli che il tempo passa. È un posto dove fermarsi e apprezzare questi minuti, ore e secondi. La "Cabane" invita l'utente a provare per vedere un modo alternativo di guardare al momento. La natura stessa della temporalità della "Cabane" offre anche un altro livello alla sala d'attesa. L'intenzione è quella di cercare di costringere gli spettatori a trovarsi faccia a faccia con passare del tempo, e di far nascere una riflessione su come riconoscere il tempo per creare una maggiore consapevolezza della propria esistenza.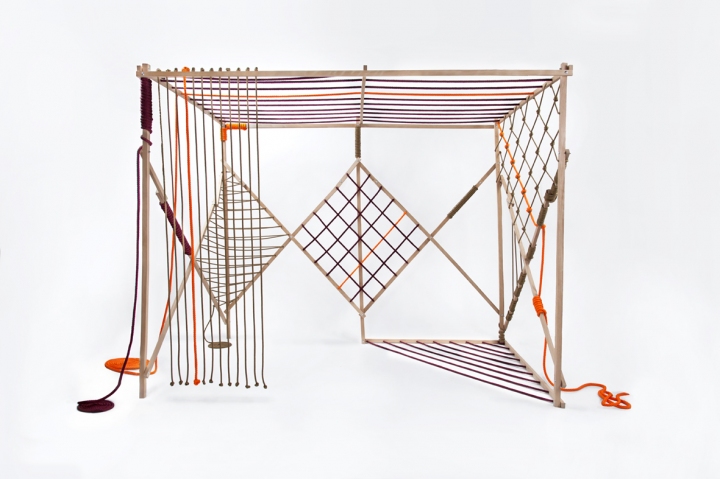 CABANE NET GIORGIA ZANELLATO (2011). L'ispirazione iniziale per la "Cabane" era la leggerezza e la trasportabilità della struttura in legno. La struttura è pensata per essere utilizzata in origine dai pescatori scozzesi, la corda che offre un riferimento diretto a questa vita precedente, completa la costruzione in legno. Le reti sono costruite attraverso il supporto della struttura, che a sua volta è rinforzata dalle reti. In questo modo si crea uno spazio in cui la corda dà diverse proposte e possibilità di spazi e usi. Si definisce un ambiente che mantiene l'idea di uno spazio temporaneo e conserva l'origine dell'oggetto stesso.