Glass Drop, una goccia di vetro incandescente – la sospensione di Diesel with Foscarini span> è stato modificato: 2017-01-08 span> di
Come una piccola goccia di vetro incandescente, Glass Drop sembra rappresentare la natura magica e sfuggente di questa materia prima, al tempo stesso fluida e solida, poco prima di prendere forma in un antico laboratorio di soffiatura.
Contemporanea e inconfondibile, la sospensione – firmata dal Diesel Creative Team e trasformata in realtà grazie al know how e alla sperimentazione sui materiali di Foscarini – vive una doppia vita grazie alla sua finitura superficiale in alluminio che ricopre il corpo in vetro soffiato ed interagisce con la luce. Da spenta, la lampada riflette come uno specchio gli oggetti e l'ambiente circostanti; se accesa, l'effetto specchiante scompare e la lampada emette un bagliore caldo, dal sapore vintage, mirato e diffuso allo stesso tempo.
Una "doppia vita" che da sempre caratterizza anche Glas, un altro modello della collezione Diesel with Foscarini presentato nel 2009. Glas e Glass Drop hanno infatti in comune materiali e processi produttivi, pur parlando linguaggi molto diversi: dal forte sapore industriale la prima, la cui forma richiama le lampade usate nelle fabbriche e nelle officine di tutto il mondo; liquida e preziosa la seconda, con il suo tecnologico abito di alluminio cangiante.
Glass Drop può essere utilizzata da sola oppure in installazioni multiple, in cui esprime al massimo la propria natura. Potrà così dare vita a composizioni orizzontali, sospese su un tavolo lungo in un ambiente domestico o un bancone in uno spazio collettivo, oppure in verticale, su diverse altezze, per arredare un ampio ingresso, un vano scale o uno spazio reception.
E viene sempre da Foscarini la soluzione tecnica che permette di comporre in verticale fino a 9 lampade a sospensione: il rosone multiplo. Una proposta che coniuga funzionalità e armonia del segno, valorizzando la grande presenza scenica, ad esempio, di una cascata di Glass Drop.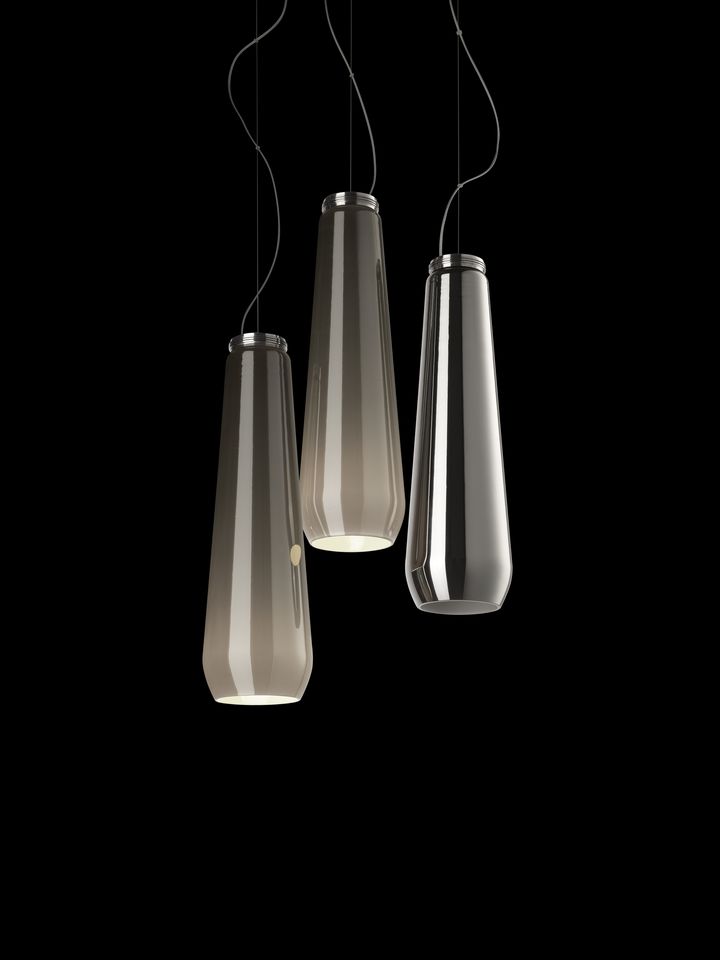 Per maggiorni informazioni potete visistare il sito: diesel.foscarini.com