Due sculture viventi in mostra al Centre Pompidou incarnano le future forme di intelligenza spaziale span> è stato modificato: 2021-06-01 span> di
Claudia Pasquero e Marco Poletto, fondatori di ecoLogicStudio e dei loro partner di ricerca: l'Urban Morphogenesis Lab presso The Bartlett UCL, il Synthetic Landscape Lab presso l'Università di Innsbruck, e il CREATE Group / WASP Hub Denmark presso la University of Southern Denmark partecipa alla mostra "La Fabrique du vivant" [Il tessuto della vita] al Centre Pompidou di Parigi (20 febbraio – 15 aprile 2019).
Lo spettacolo, parte della serie Mutations-Créations e curato da Marie-Ange Brayer con Olivier Zeitoun, ripercorre l'archeologia del vivere e della vita artificiale.
Come affermano i curatori, nell'era digitale sta emergendo una nuova interazione tra la creazione e i campi delle scienze della vita, delle neuroscienze e della biologia sintetica. La nozione di "vivere" assume una nuova forma di artificialità, che permea l'intera Urbansphere – l'apparato globale dell'urbanità contemporanea. Qui, la miniaturizzazione, la distribuzione e l'intelligenza delle reti urbane create dall'uomo hanno raggiunto la complessità umana, generando processi evolutivi di vita sintetica sulla Terra.
In questo contesto, un team multidisciplinare guidato dagli architetti Claudia Pasquero e Marco Poletto, ha creato "in-human gardens", due sculture viventi stampate in 3D ricettive alla vita umana e non umana. Questi pezzi affrontano i dettami della razionalità umana con gli effetti della vicinanza all'intelligenza artificiale. Entrambe le sculture sono state sviluppate in "collaborazione" con organismi viventi, in particolare colonie di cianobatteri fotosintetici, H.O.R.T.U.S. XL Astaxanthin.g, e il collettivo di Asian Fawn Tarantulas, XenoDerma. La loro opera non umana è mediata da sottostrutture spaziali sviluppate dagli artisti durante lo studio di modelli biologici di endosimbiosi. Queste strutture sono progettate e prodotte algoritmicamente mediante una tecnologia di stampa 3D su larga scala e ad alta risoluzione.
Entrambi i pezzi scultorei sono destinati a essere prototipi speculativi in ​​scala 1: 1 di architetture viventi, una nuova generazione di pelli architettoniche biofile ricche e ricettive alla vita urbana.
H.O.R.T.U.S. XL Astaxanthin.g
(ecoLogicStudio in collaborazione con Innsbruck University – Synthetic Landscape Lab, CREATE Group / WASP Hub Denmark – University of Southern Denmark)
In H.O.R.T.U.S. XL Astaxanthin.g, un algoritmo digitale simula la crescita di un substrato ispirato alla morfologia del corallo. Questo viene fisicamente depositato da macchine da stampa 3D a strati di 400 micron, supportate da unità triangolari di 46 mm e divise in blocchi esagonali di 18,5 cm. I cianobatteri fotosintetici sono inoculati attraverso biogel nelle singole cellule triangolari, o bio-pixel, formando le unità di intelligenza biologica del sistema. I loro metabolismi, alimentati dalla fotosintesi, convertono le radiazioni in ossigeno e biomassa. Il valore di densità di ogni bio-pixel è calcolato digitalmente al fine di disporre in modo ottimale gli organismi fotosintetici lungo le iso-superfici di una maggiore radiazione entrante. Tra gli organismi più antichi sulla Terra, l'esclusiva intelligenza biologica dei cianobatteri è raccolta come parte di una nuova forma di architettura bio-digitale.
Nella primavera del 2019, H.O.R.T.U.S. XL Astaxanthin.g sarà esposto al MAK – Museum of Applied Arts di Vienna.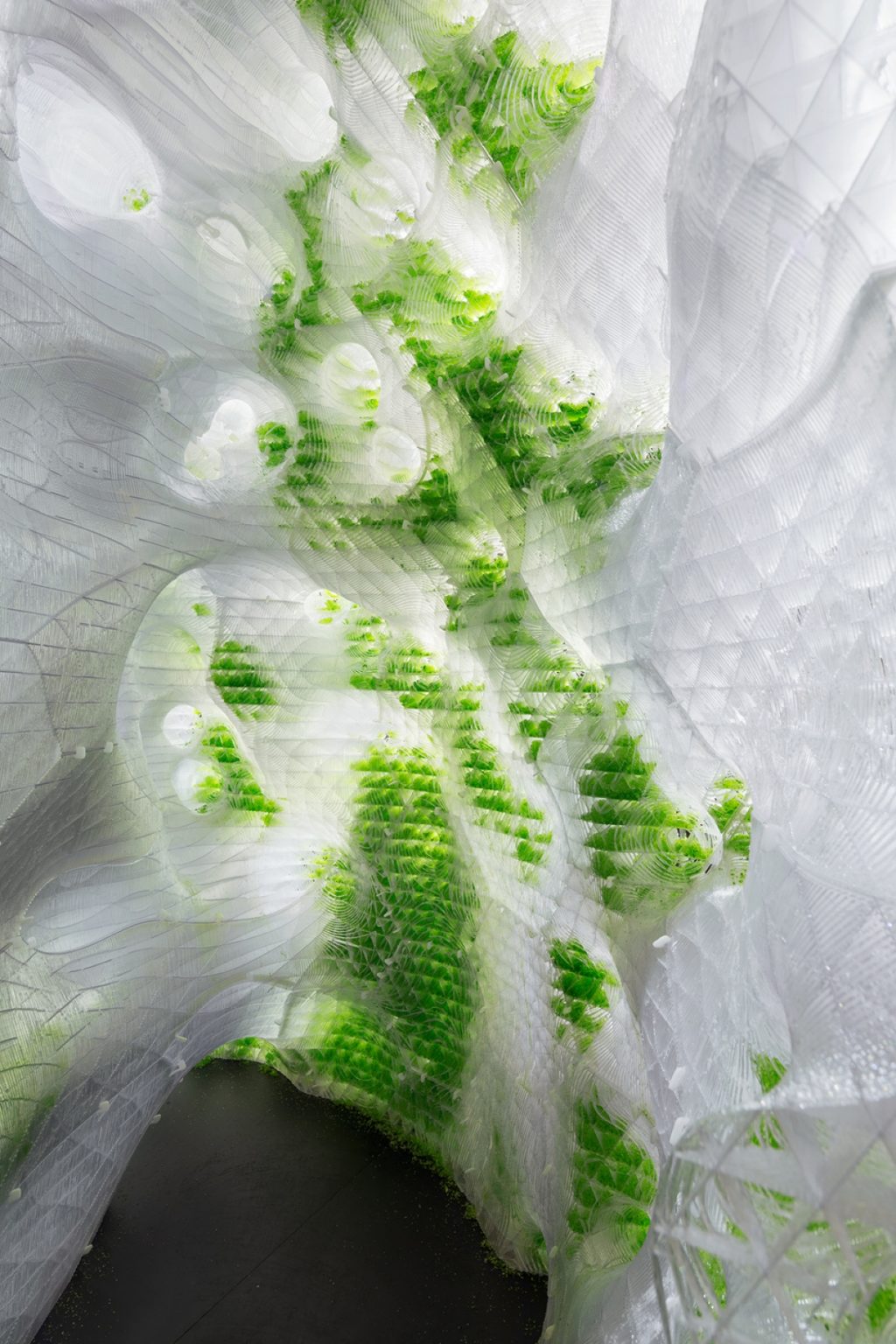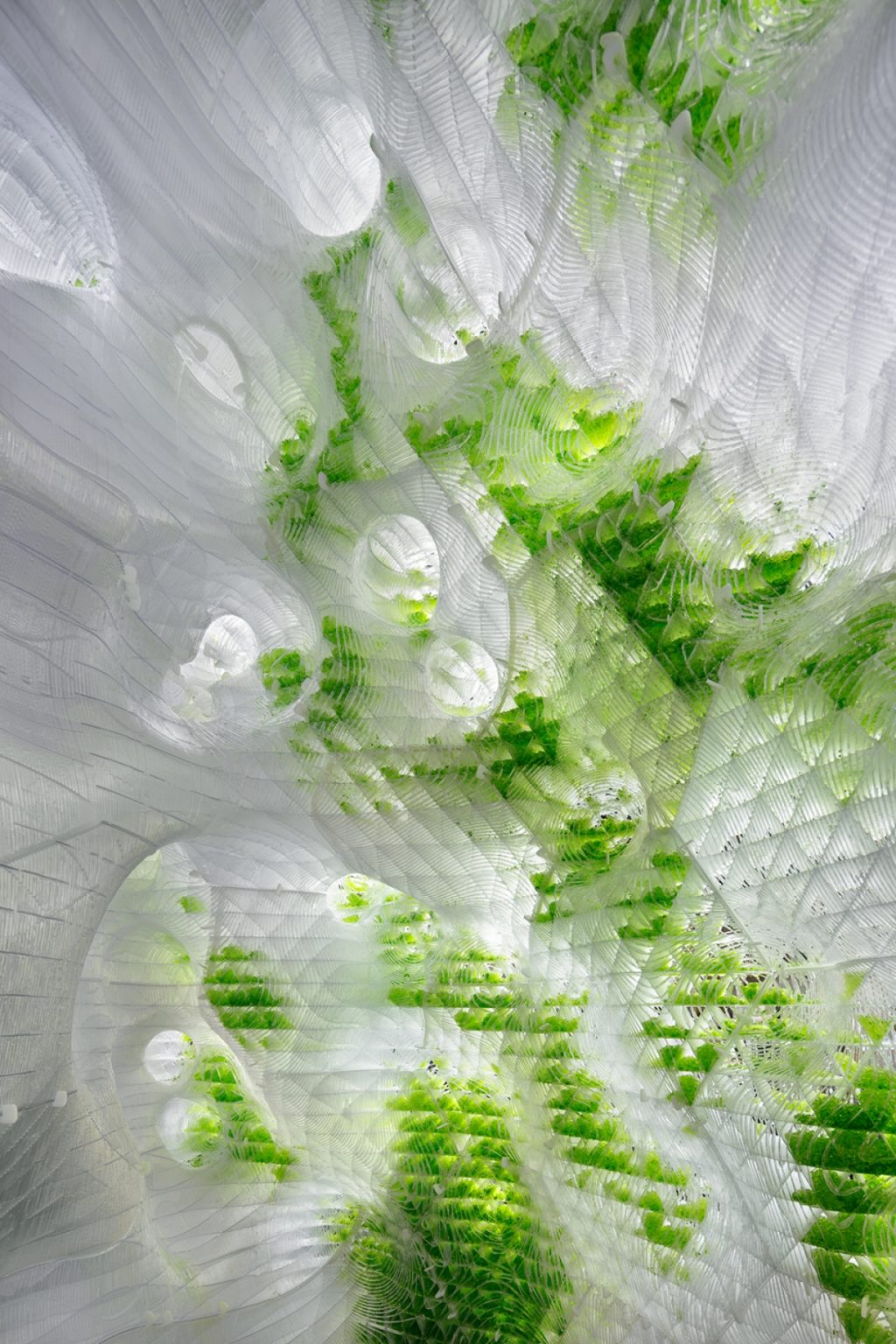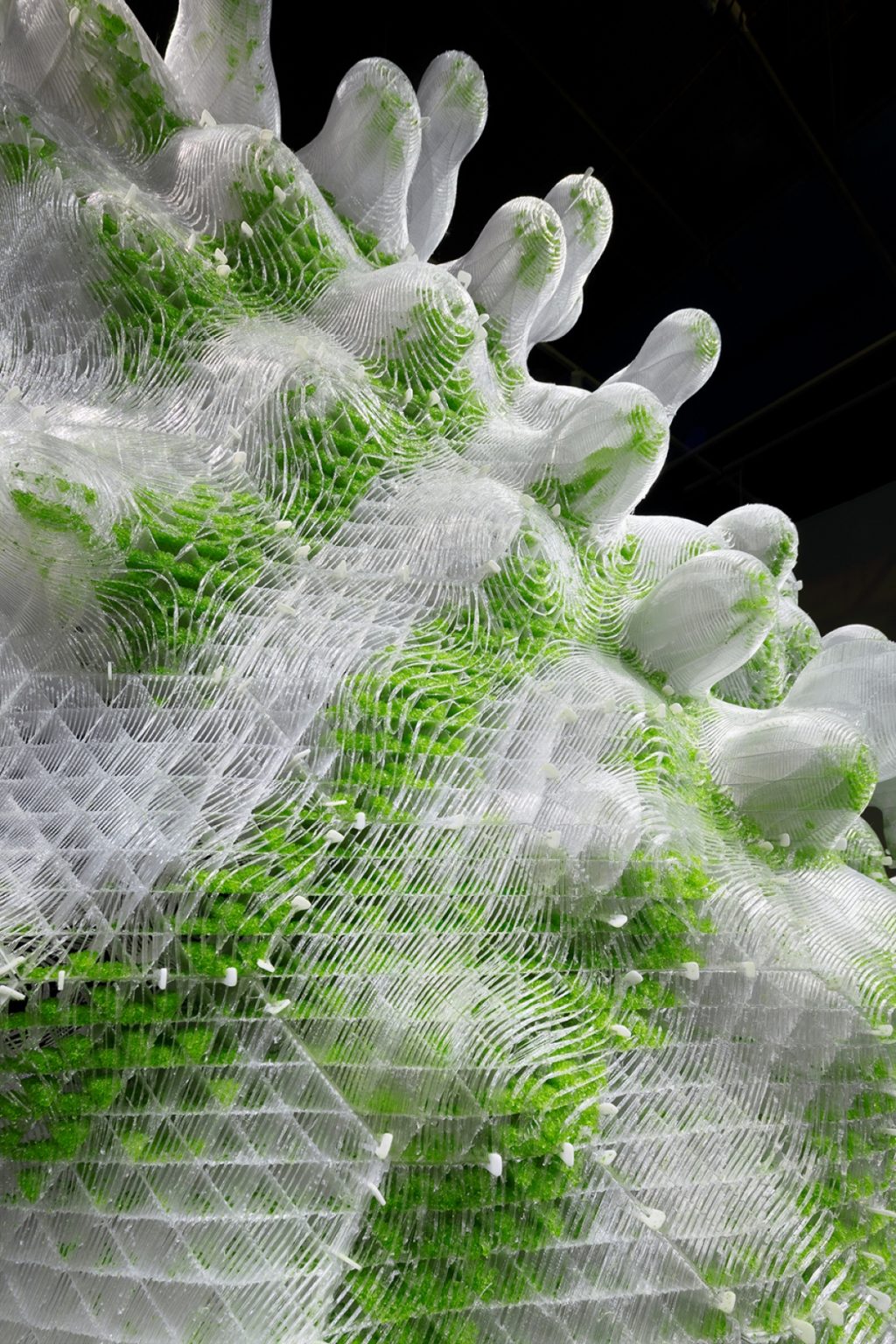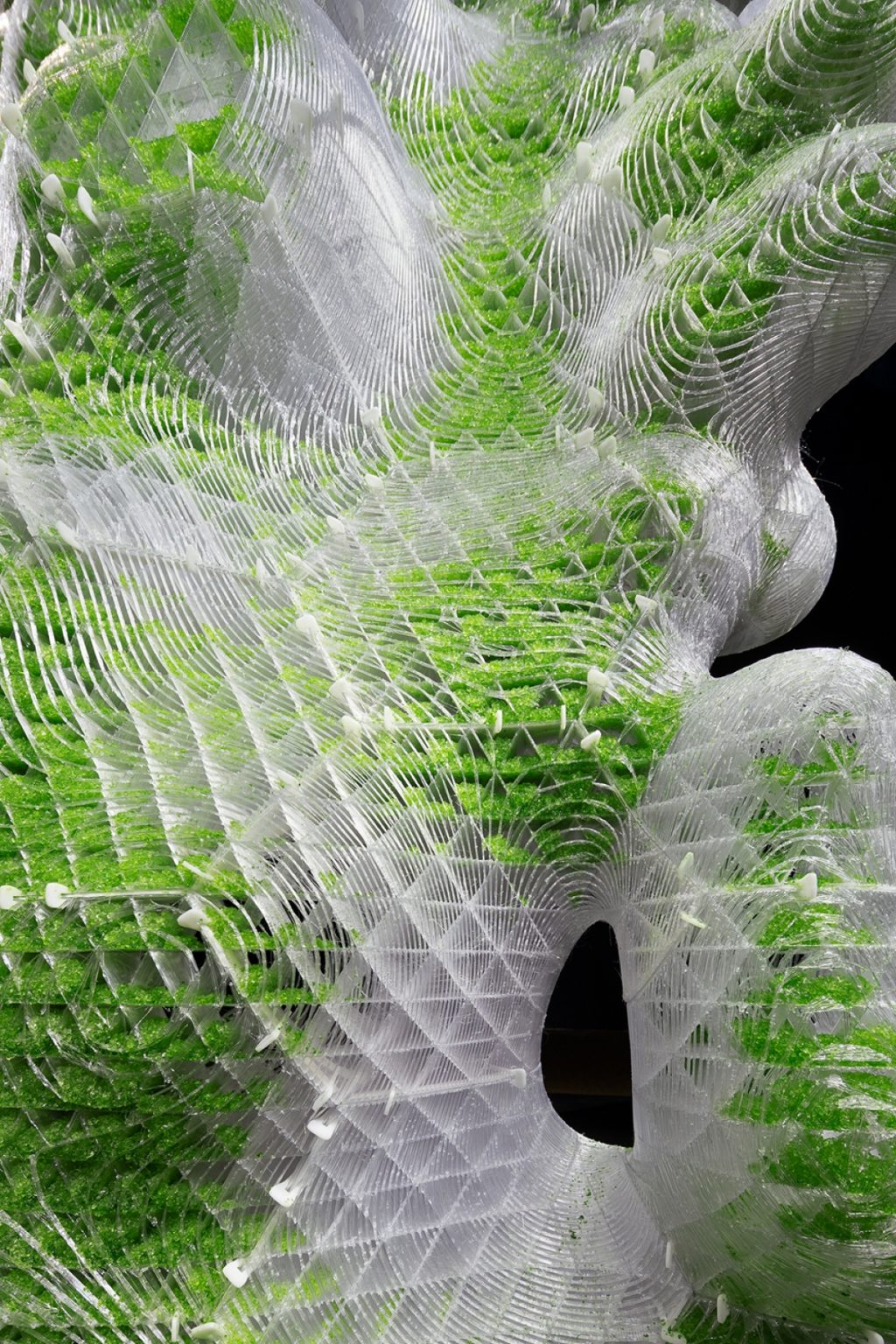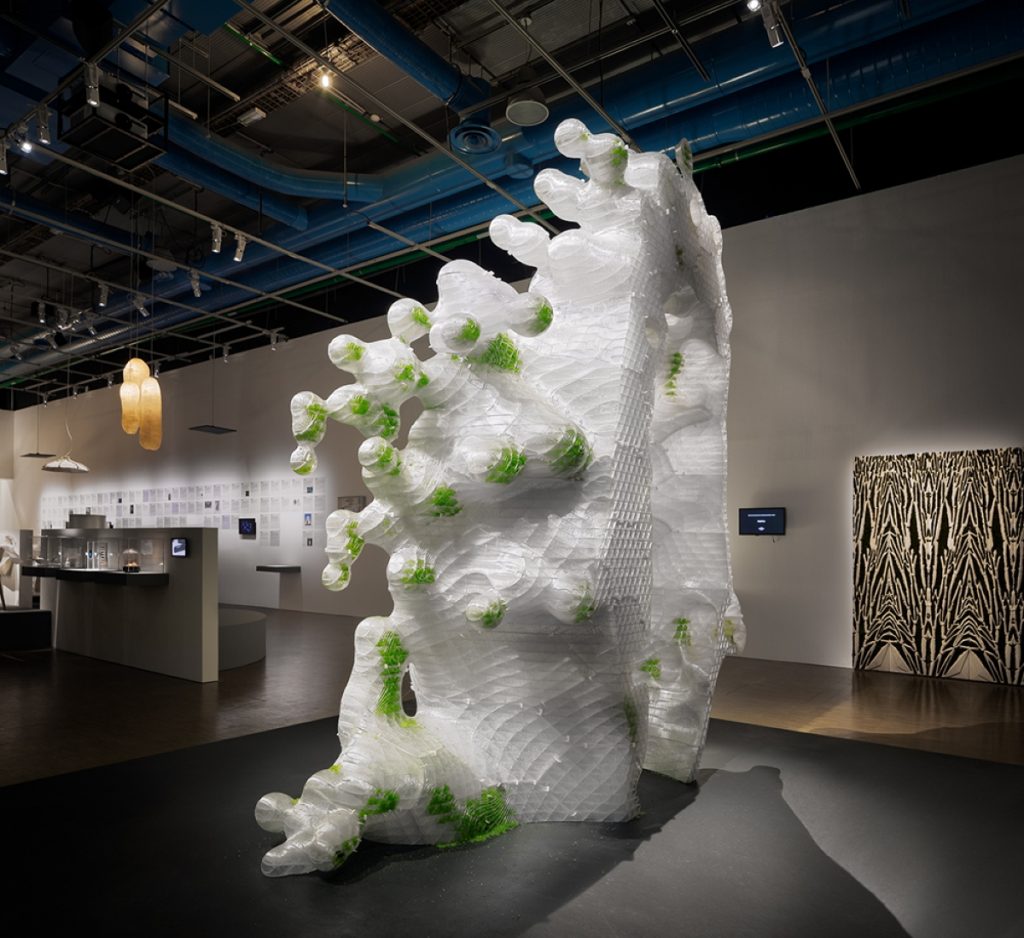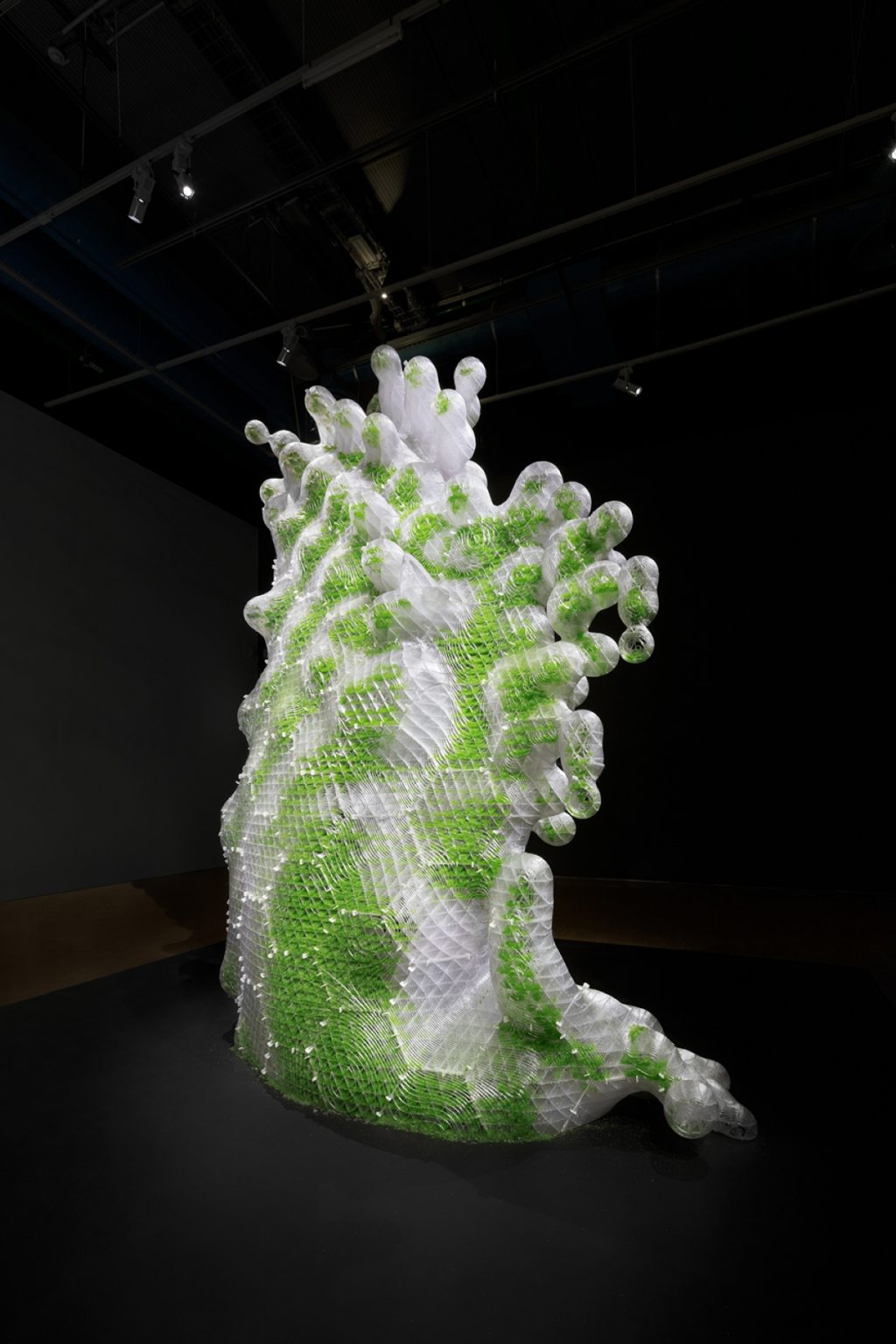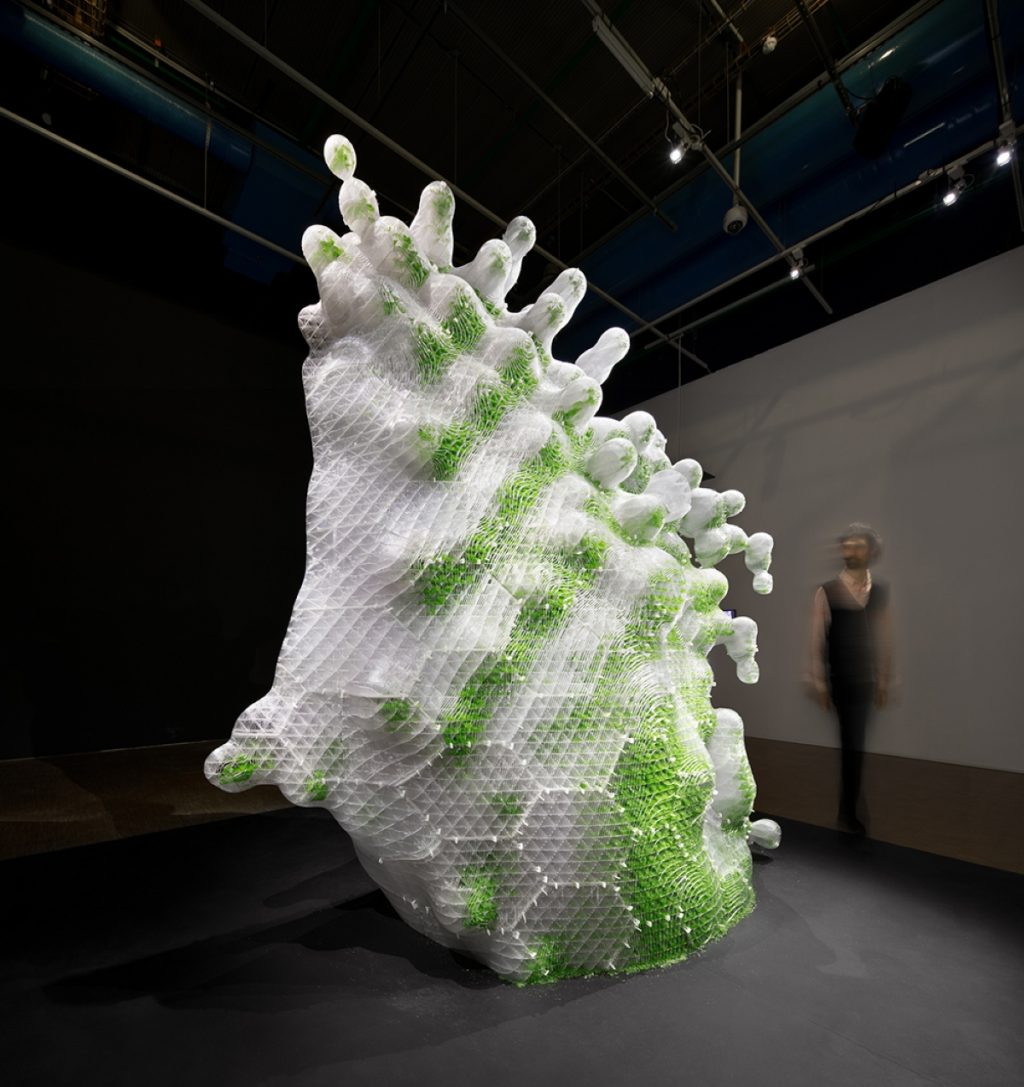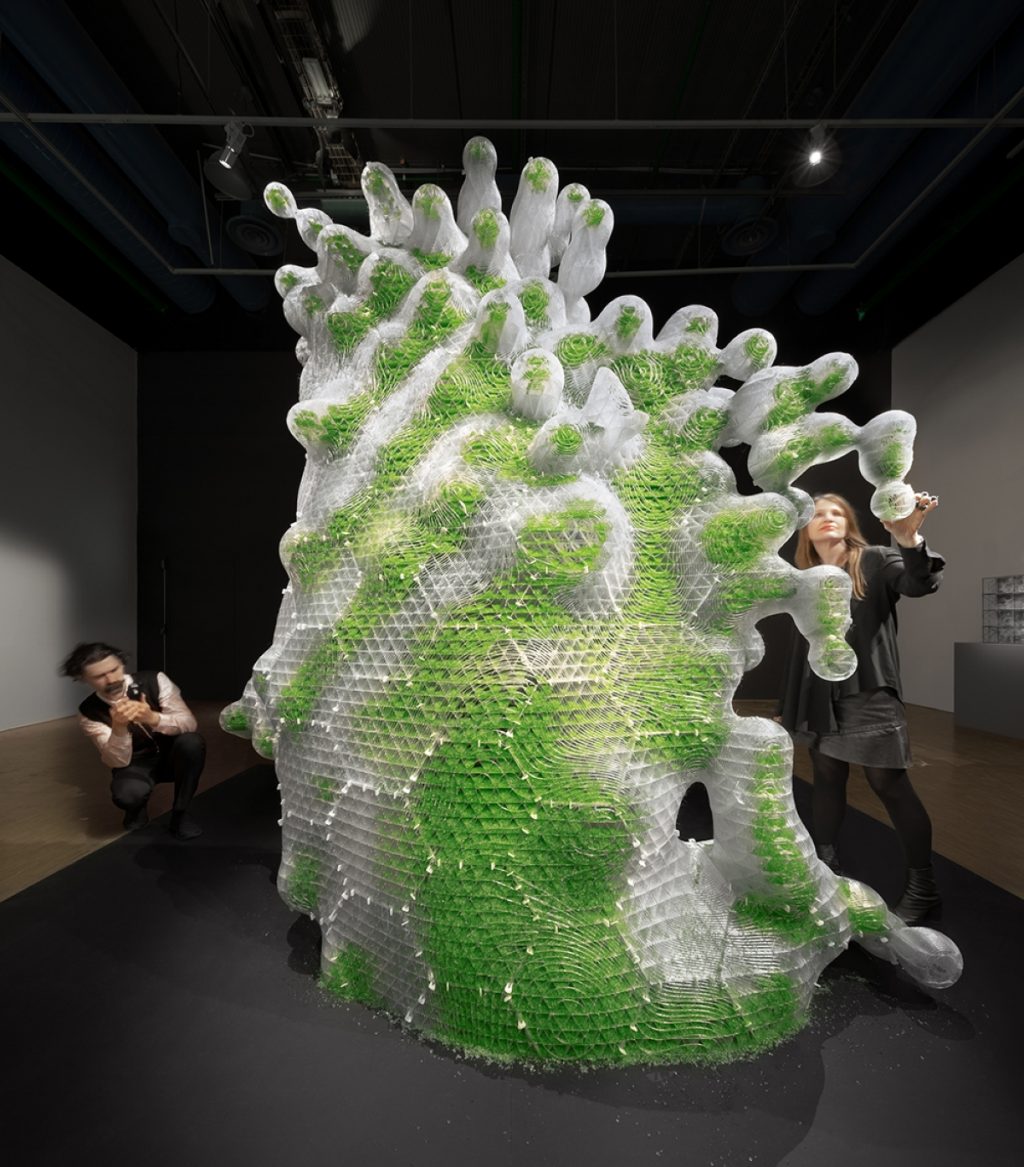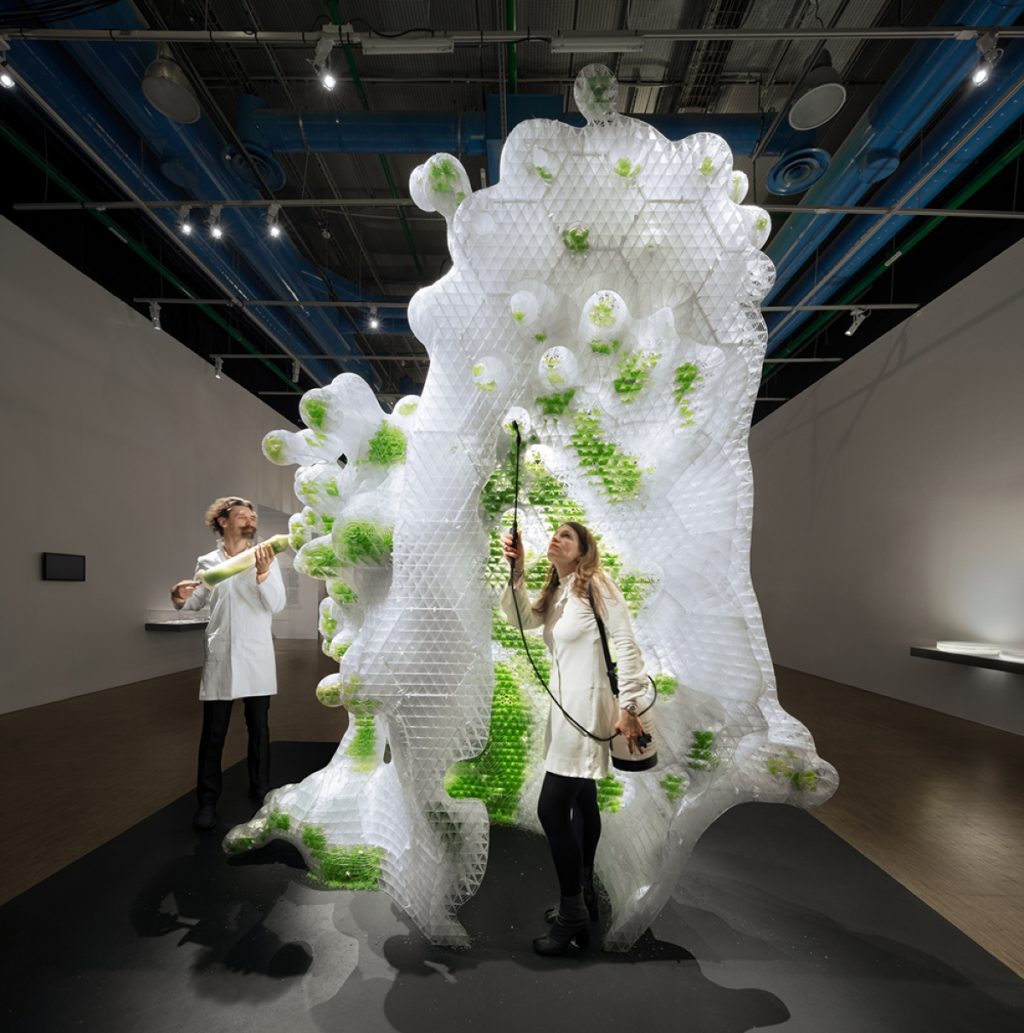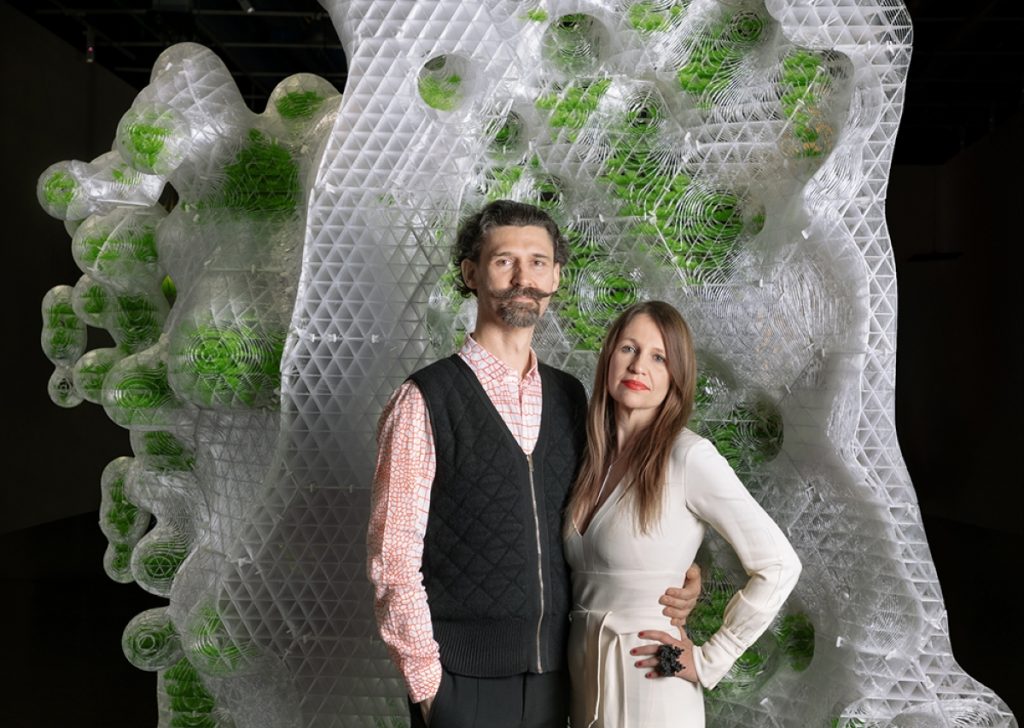 XenoDerma
(Urban Morphogenesis Lab directed by Claudia Pasquero at The Bartlett UCL)
In XenoDerma, la morfogenesi della ragnatela viene intercettata con un'armatura spaziale artificiale, progettata algoritmicamente e stampata in 3D. Le menti dei ragni, in questo caso le Tarantule di Fawn dell'Asia, non risiedono interamente nei loro corpi, poiché le loro ragnatele costituiscono una forma di pensiero spaziale. Le informazioni dalle loro reti diventano parte integrante dei loro sistemi cognitivi. Il comportamento degli spider e la produzione di seta sono riprogrammati in XenoDerma attraverso il design della sottostruttura stampata in 3D e delle sue caratteristiche geometriche. Il risultato ricerca coscientemente ambiguità produttive, rivelando la bellezza aliena delle sue morfologie setose, un'intelligenza che risiede da qualche parte nell'intersezione dei regni biologico, tecnologico e digitale.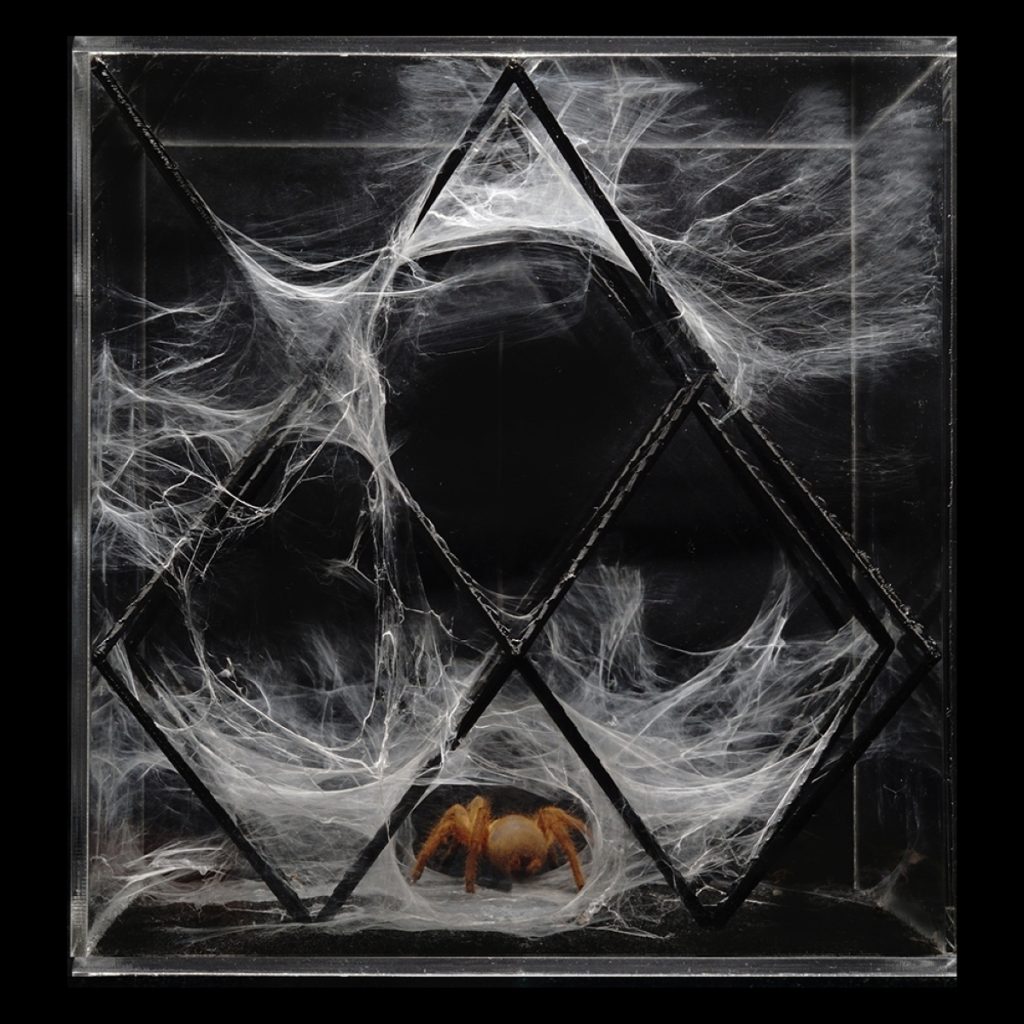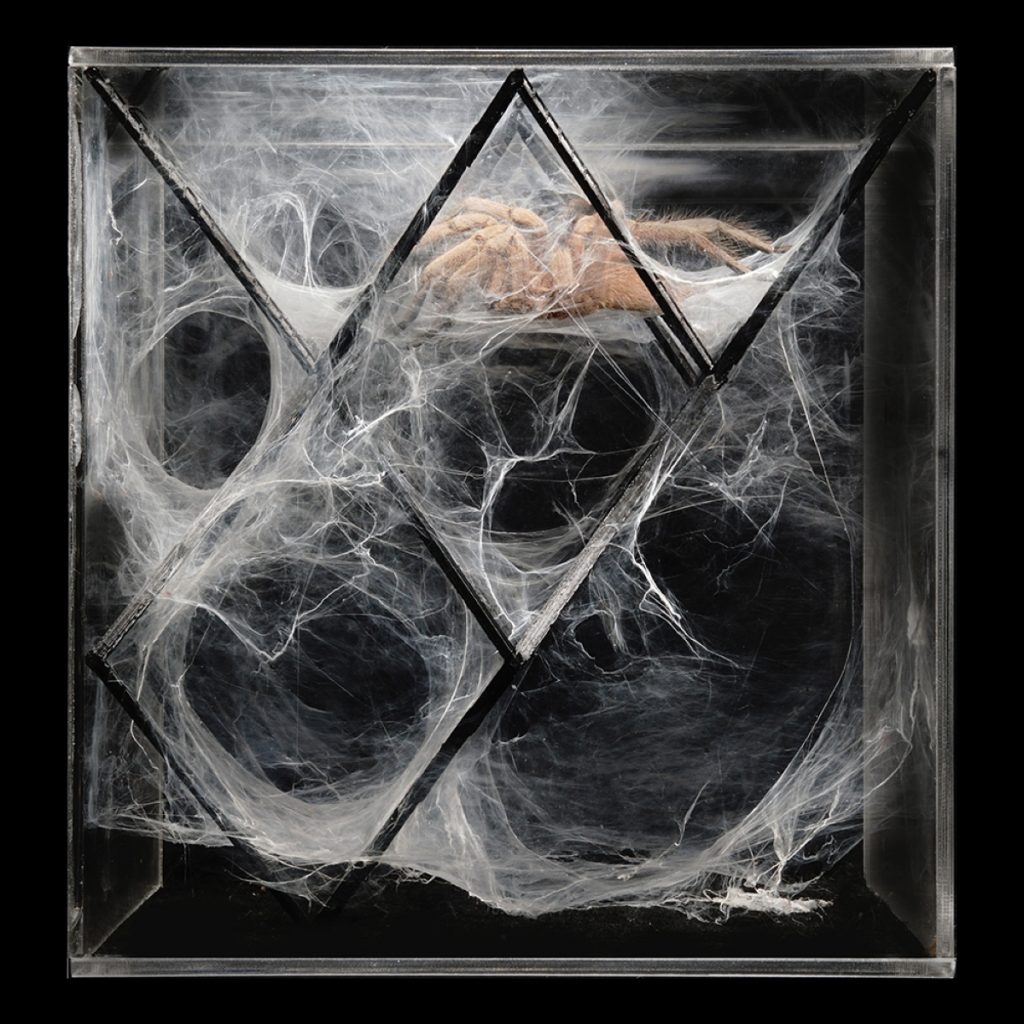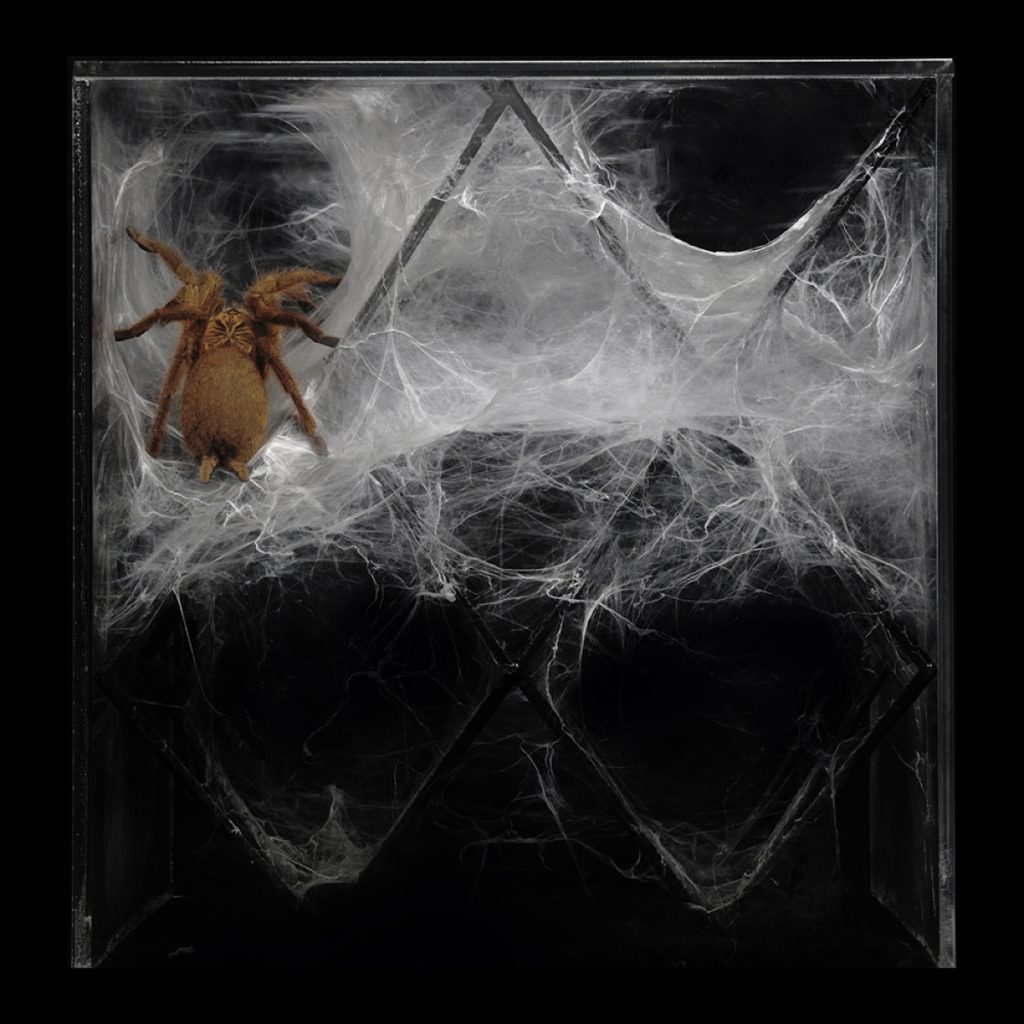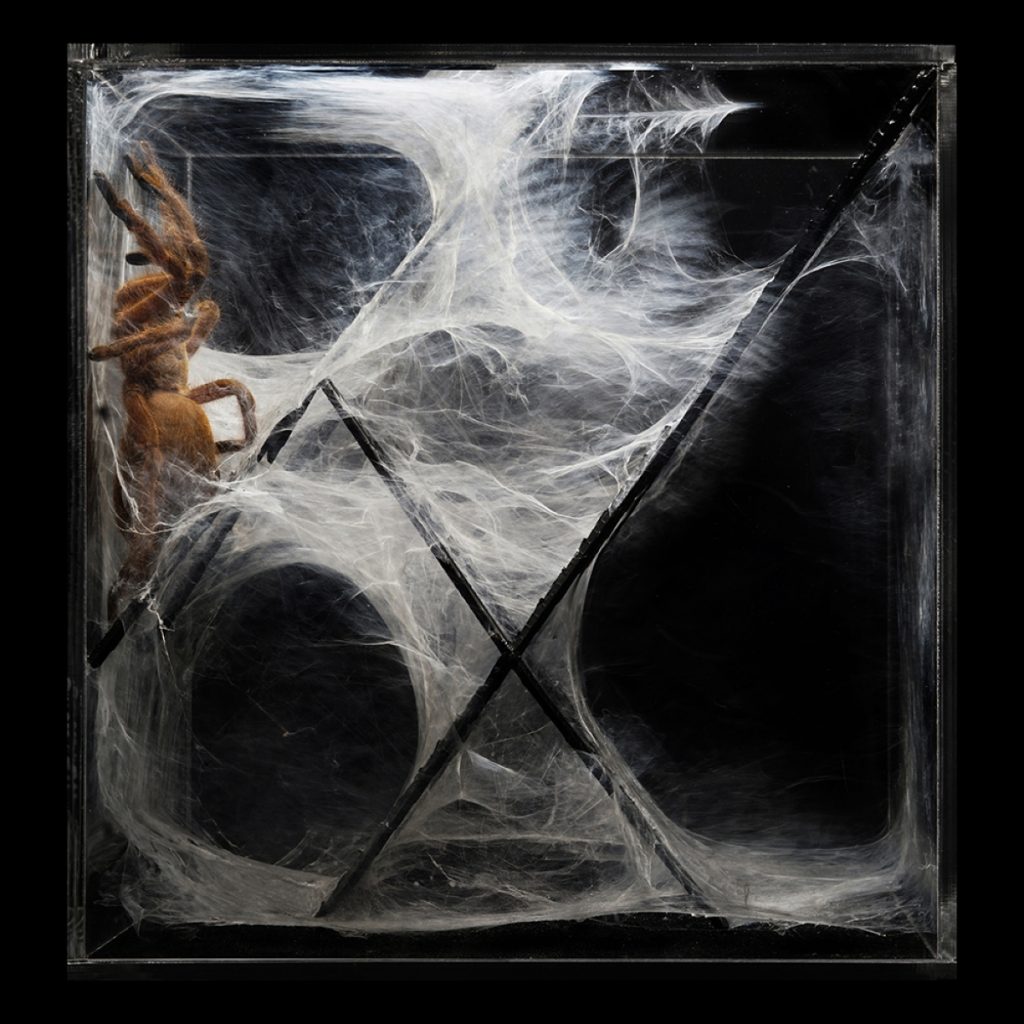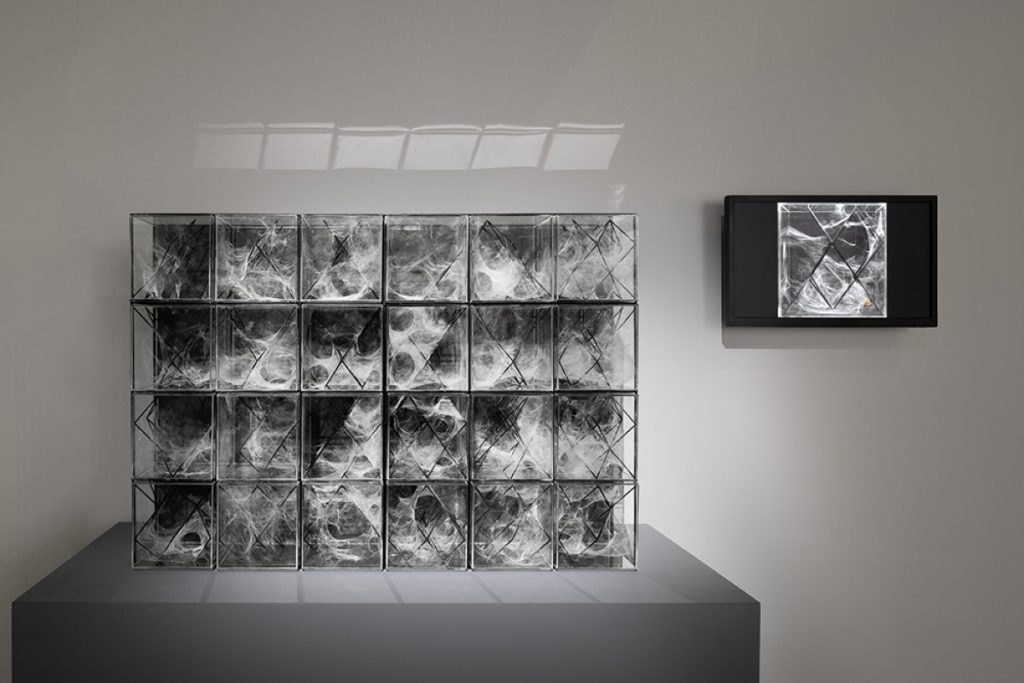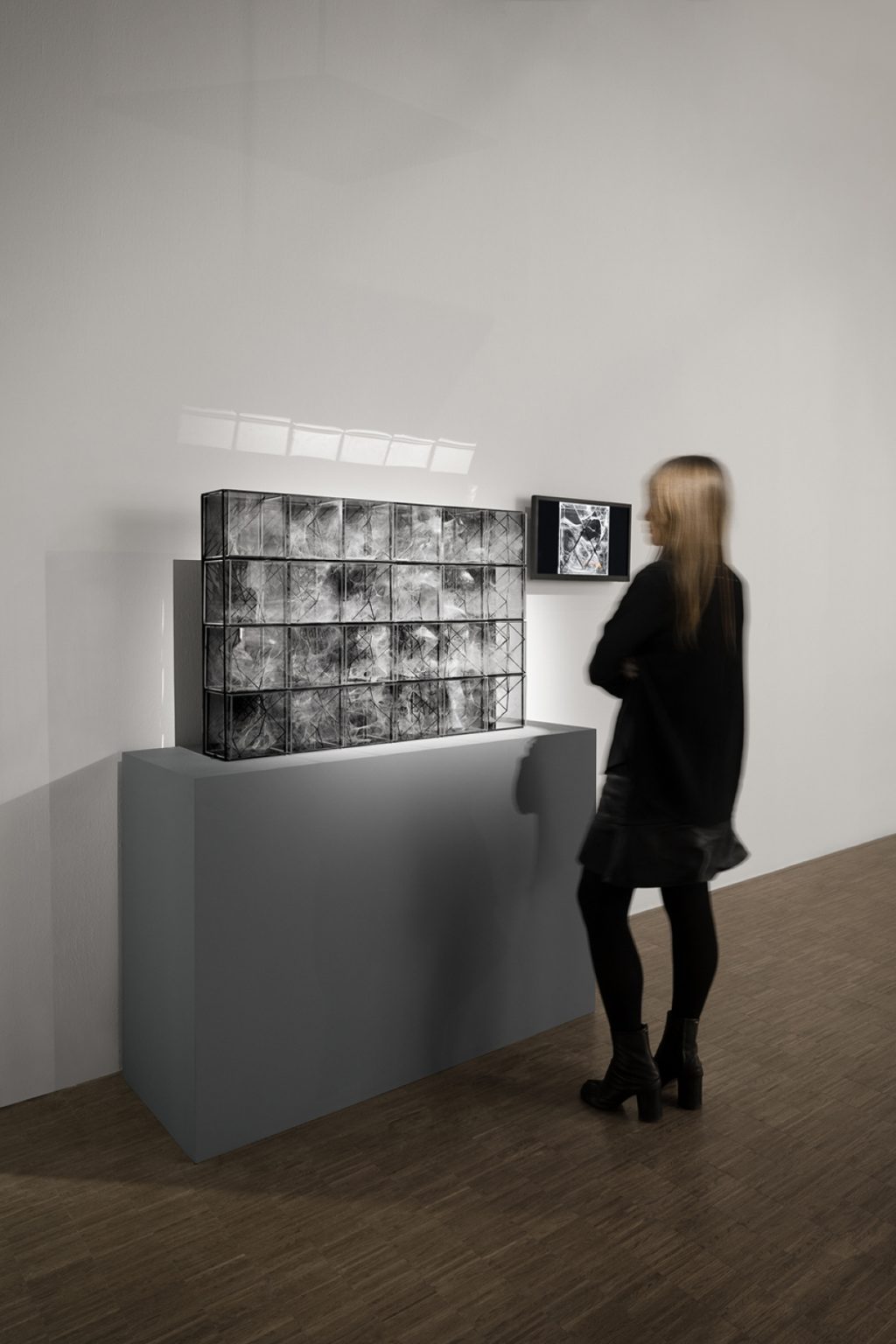 CREDITS
H.O.R.T.U.S. XL Astaxanthin.g, 2019, 3d printed substratum, micro-algae in biogel medium, 320 x 272 x 114 cm
Design: ecoLogicStudio (Claudia Pasquero, Marco Poletto, Konstantinos Alexopoulos, Matteo Baldissarra, Michael Brewster)
Partner di ricerca per sistemi biologici e di stampa 3D e sviluppo della produzione: Synthetic Landscape Lab, IOUD, Innsbruck University (Prof. Claudia Pasquero, Maria Kuptsova, Terezia Greskova, Emiliano Rando, Jens Burkart, Niko Jabadari, Simon Posch); Photosynthetica consortium (www.photosynthetica.co.uk)
Partner di ricerca per sistemi stampati 3d e sviluppo della produzione: CREATE Group / WASP Hub Denmark – University of Southern Denmark (SDU) (Prof. Roberto Naboni, Furio Magaraggia)
Engineering: YIP structural engineering, Manja Van De Worp
Microalgal Medium Material Support: Ecoduna AG
3D printing Material Support: Extrudr
XenoDerma, 2018, spider silk morphologies (Asian Fawn Tarantulas) informed by 3D printed substratum, 118 x 34 x 93 cm
Design, Production and Research: Urban Morphogenesis Lab (Lab Director: Claudia Pasquero Cluster Researchers: Filippo Nassetti, Emmanouil Zaroukas Design Team: Mengxuan Lii, Xiao Liang) B-Pro, The Bartlett School of Architecture, UCL
www.urbanmorphogenesislab.com
In-human Gardens Video, 2019 by ecoLogicStudio
Concept: Claudia Pasquero, Marco Poletto
Production and editing: Konstantinos Alexopoulos, Michael Brewster
La Fabrique du Vivant [The Fabric of the Living] 20 February – 15 April 2019 Galerie 4 – Centre Pompidou, Paris
www.centrepompidou.fr