Ego Chair: esplorando l'ego attraverso il design di Karim Rashid span> è stato modificato: 2023-05-22 span> di
Ego chair, la poltrona che crea un legame audace tra arte, design e mente umana, con il profilo del volto umano saggiamente incorporato nel suo design. Karim Rashid, uno dei designer più rinomati, ha ricevuto numerosi premi e riconoscimenti per le sue creazioni innovative. La collezione Ego rappresenta l'essenza del suo stile distintivo.
La poltrona Ego chair è un'aggiunta potente al tuo spazio, creando un collegamento senza soluzione di continuità e audace tra arte, design e mente umana. Disponibile in Hot Pink, Pearl White o Black, la poltrona Ego presenta abilmente il profilo del volto umano intorno al suo schienale.
Karim Rashid è uno dei designer più prolifici della sua generazione. Oltre 4000 design in produzione, più di 400 premi e la sua presenza in oltre 35 paesi attestano la leggenda del design di Karim. I suoi design pluripremiati includono oggetti democratici come il famoso cestino per rifiuti Garbo e la sedia Oh! per Umbra, nonché interni come il ristorante Morimoto a Philadelphia e l'hotel Nhow a Berlino. Karim ha creato design di rilievo per clienti come Method e Pepsi, mobili per Artemide e Vondom, identità di marca per Citibank e Hyundai, prodotti high-tech per LaCie e Samsung e beni di lusso per Veuve Clicquot.
La collezione Ego è una fantastica fusione tra arte e design. L'arte riflette la vita. L'arte è egoista, il design è democratico, e cosa c'è di più egoista dell'ego? Il volto appare contemporaneamente generico, ed è stato utilizzato nell'arte per migliaia di anni.
Le opere squisite della collezione Ego includono: un imponente e suggestivo mobile nero con intarsi in ottone dorato, una sontuosa poltrona a forma di volto umano disponibile in Hot Pink, Pearl White e Black, e uno schermo mozzafiato di colore Pearl White.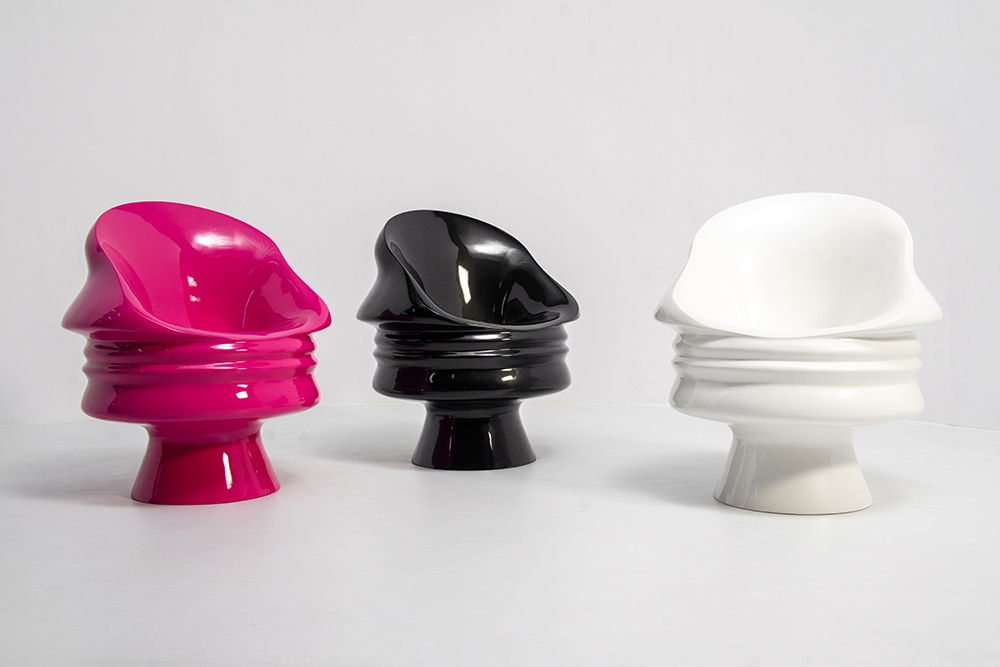 Numerosi premi e riconoscimenti attestano il contributo di Karim al mondo del design. È stato insignito del premio American Prize for Design Lifetime Achievement, nonché vincitore ricorrente del premio Red Dot, dell'Interior Design Best of Year Award, del premio iF, del Chicago Athenaeum Good Design Award, del premio IDA Design, del premio Dieline, del premio Spark, del premio Pentawards e del premio IDSA Industrial Design Excellence. Detiene dottorati honoris causa dalla Carlton University, dal Pratt Institute, dall'OCAD di Toronto, dall'British Institute of Interior Design e dal Corcoran College of Art & Design.
Project info
Company/Firm: Karim Rashid Inc.
Designer: Karim Rashid
Photo Credit: Courtesy of Scarlet Splendor
Location: Global
Project Date: November 11, 2022
Client: Scarlet Splendor