FLORENCE DESIGN WEEK – DESIGN VILLAGE II edizione / Firenze, 24-29 Maggio 2011 span> è stato modificato: 2011-04-26 span> di
Allestimenti d'autore, forme in azione, ricerche e progetti innovativi, designers, giovani, arte, focus su ecosostenibilità, performance, musica e "Progetti per il Made in Italy", concorso in partnership con London Design Festival.
Design e ingegno si incontrano così a Firenze, dal 24 al 29 maggio nel cuore della città. Intelligenza, talento, ma anche voglia di sorprendersi e divertirsi. È la ricetta di
FLORENCE DESIGN WEEK, il Festival del Design dedicato al futuro e alle imprese. «Vogliamo dare valore al Design, promuoverlo e favorirne una partecipazione emotiva e sensoriale», spiegano i direttori artistici Alessandro Pumpo e Marta Mandolini, che per il secondo anno consecutivo hanno invitato a Firenze designers, architetti, artisti, aziende e partners per offrire ai visitatori uno sguardo sul design italiano e internazionale.
L'apertura della manifestazione è prevista per il giorno 24 maggio alle ore 15 a Palazzo Medici Riccardi, per dare il via a una settimana di giornate internazionali di Design.
Più di 40 gli eventi e le locations, dagli open-studios di designers e architetti a vetrine di negozi e gallerie d'arte.
Durante la 7 giorni verrà data grande attenzione agli Stili di Vita Green: a Palazzo Vecchio si terrà la conferenza-workshop "100% Sostenibile", un appuntamento con architetti di fama internazionale che potremo raggiungere grazie agli info-bike points, punti informativi che rappresentano un modo sano e pulito di muoversi in città, attraverso un percorso di arte contemporanea e itinerari dedicati ai quattro elementi (Acqua, Terra, Aria e Fuoco).
Un festival giovane rivolto ai giovani con il concorso "Progetti per il Made In Italy", voluto dagli organizzatori per incentivare la produzione del design nostrano ed esportare oltremanica le idee vincenti, grazie alla partnership con il London Design Festival.
Tra le grandi novità di quest'anno il progetto "Life&Design", la cui missione è affiancare progetti di design, arte e creatività alla raccolta di fondi destinati a chi ne ha più bisogno.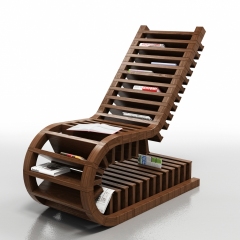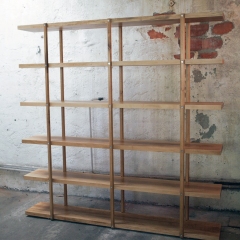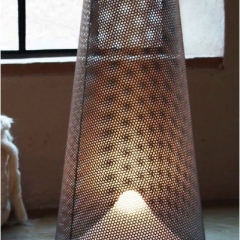 Il partner principale del festival, Design d'Autore, proporrà dei formats divertenti, con aziende importanti del design non convenzionale in due locations suggestive… Sorpresa e mistero su questi eventi …
E.Motional Design è il tema conduttore su cui ruotano gli exposhow allestiti da Ornella Sessa, tra vintage e new trend l'eccellenza produttiva di alcune aziende toscane e internazionali "urlerà" la sua presenza in ambienti "ipersensoriali".
Ogni progetto nasce da un'idea originaria, che il Florence Design Week vuole andare a riscoprire. Bozze, schizzi e relazioni dedicate al processo creativo che ha permesso la realizzazione di lavori concreti verranno presentati con installazioni di arte e di design dal titolo "E-STENDI i tuoi progetti".
Dal gruppo eclettico Fleurs Du Mal, a performance estemporane e Flash Mob, a Lanterne alte nel cielo per un creative fund-raising, i visitatori saranno ogni giorno attirati e guidati nei 4 itinerari della kermesse.
Nei percorsi previsti sarà possibile vedere l'arte e anche gustarla, con il design to eat, un progetto che nasce quando l'inventiva si mette a tavola, con le degustazioni nella
suggestiva Biblioteca delle Oblate presso la quale i visitatori potranno assaggiare di tutto con gli show-food in compagnia di chefs e designers.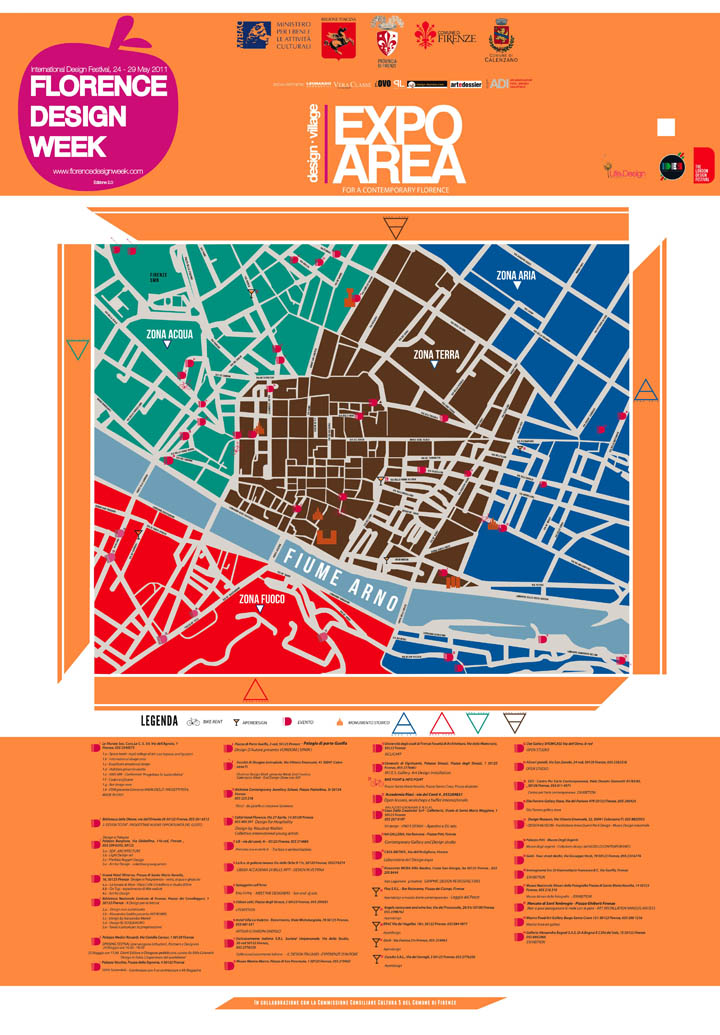 La manifestazione coinvolgerà anche il territorio: nella suggestiva cornice del Grand Hotel Minerva vedremo "design in trasparenza" attraverso il vetro, l'acqua e il ghiaccio; alla Biblioteca Nazionale Centrale ci sarà il "design per la lettura"; a Villa La Vedetta saremo di nuovo in compagnia di Artour-o con il suo giardino d'autore con vista mozzafiato su Firenze; spazio al futuro, con Space Hotel, nel progetto del Royal College Of Art di Londra, senza dimenticare i molti altri appuntamenti in prestigiose locations fiorentine come Palazzo Borghese, Hotel Cellai, Galleria Tannaz, Nagalleria, Casa Abitata e molte altre ancora. Progetti che, insieme all'International Area del complesso delle Murate vedono protagonisti artisti italiani e internazionali. Infine, ma non ultimo, "Design for Kids", il design pensato per i bambini, protagonisti di un
laboratorio creativo di giochi-design e arredo per l'infanzia. Dalla guida cartacea per tutti alla Web Map virtuale, così si trasformano i luoghi fisici e
concettuali della città, vivacizzata anche nella sua vita serale da dj set, performance, aperidesigns e design for shopping.