join-lamp THE SUSTAINABLE LIGHT 100% RECYCLABLE span> è stato modificato: 2011-04-24 span> di
Le lampade della collezione join-lamp di Sergio Catalano, sono prodotte con un sistema di assemblaggio innovativo ed esclusivo, protetto da Brevetto Internazionale per Modello di Utilità.
Esso consiste nell'assemblaggio di 2, 3, 4 o più componenti piani dotati di particolari tagli, e consente di realizzare diffusori autoportanti di forme e dimensioni variabili. Con un semplice incastro e senza ausilio di altri componenti, supporti o accessori, tale diffusore trattiene una lampada o corpo luminoso a risparmio energetico e bassa emmissione di calore. La combinazione tra vari tipi di lampade e componenti di diverso colore o forma, permette di realizzare una varietà infinita di apparecchi di illuminazione. Monomaterialità e scomponibilità del prodotto, comportano facile riciclo di scarti di produzione e dell'oggetto a fine vita, oltre che significative economie per packaging, stoccaggio e trasporto.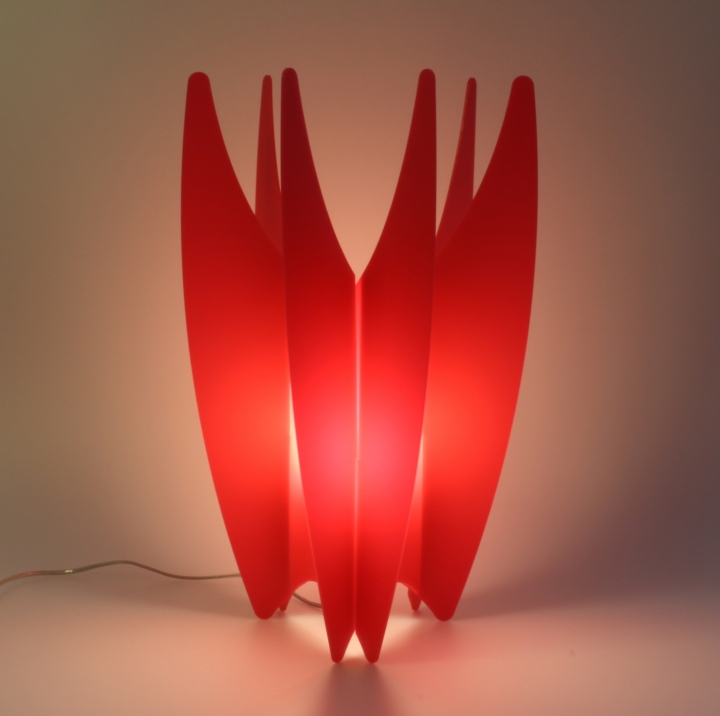 The lamps of join-lamp collection, are produced by an innovative and exclusive system of assembling, protected by international patent for utility model. It consists in the assembly of 2, 3, 4 or more components with special plans cuts, and allows you to create a self-supporting diffuser of different shapes and sizes. With a simple join and without the help of other components, brackets or accessories. that diffuser holds a energy saving bulb and low heat emission. The combination of different types of bulbs and components of different color or shape, leading to an infinite variety of lighting equipment. The mono-materiality of the product allows easy recycling of waste production and of the object at the end of its life, as well as significant savings for packaging, storage and transportation.