Luxury Enters the Kitchen with Colombini Casa span> è stato modificato: 2015-02-06 span> di
Colombini Casa's latest kitchen collection, Opera, features five luxurious versions that are a rich combination of functionality and beauty, with a precise attention to detail.
Colombini Casa is recognized worldwide for offering classic Italian style at an accessible price, while following the principles of high-quality artisanship and passion for innovation. Tailor-made, original design pieces are customized to meet individual client requirements, in order to suit personalised individual spaces, tastes and budgets.
Colombini Casa's latest kitchen model, Opera, showcases classical Italian Baroque-style elements with romantic and luxurious overtones that result in an elegant and versatile kitchen space. A variety of finish combinations for the doors as well as an array of intricately crafted handles, are the most important feature for emphasizing the kitchen's rich and sophisticated look that brings classical to a whole new level.
Color, finish and detail combinations allow for a personalized touch that features five varying versions of Opera, each encompassing some of the most fundamental elements in modern day kitchen design. Opera01 embodies a lavish, Mediterranean charm, featuring a natural white finish and traditional plate rack with an intricately detailed rail. Opera02 instead, features postformed laminate worktops that are both polished, sturdy and easy to clean, with meticulously chosen accents like the Epoca handle. Opera03 highlights the precise detail of Italian craftsmanship with its specially designed accessories, like those created for the sink and retro-style pewter Conchiglia handles set against a new natural chalky finish.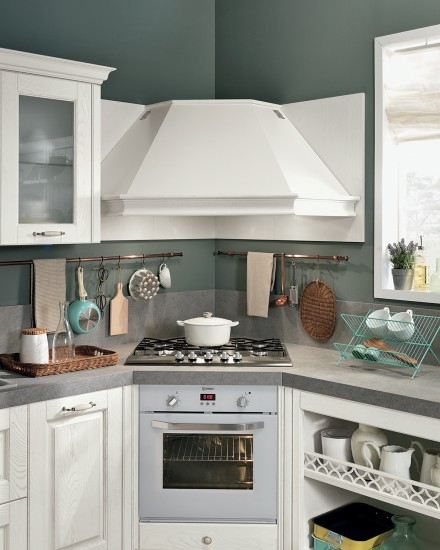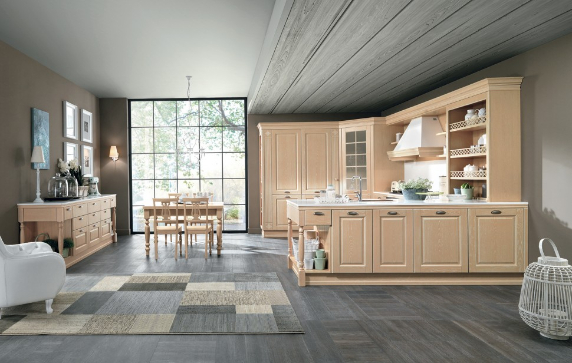 Opera04 and Opera05 take luxury and grandeur to the next level in the kitchen. Opera04 is reminiscent of a classic aristocratic style with silvery doors, marble surfaces and decorative mouldings as well as dainty small-pane glass doors. Opera05 is the veritable 'gold model,' featuring a largely different effect when the same design, the same decorative features and the same accessories are transformed by their color and finish. With its gold and ivory accents, elaborate and decorative moulding, and the natural patterning of wood, the luxury of Opera05 is highlighted offset by the intricate Allegra handle with crystals and glass doors.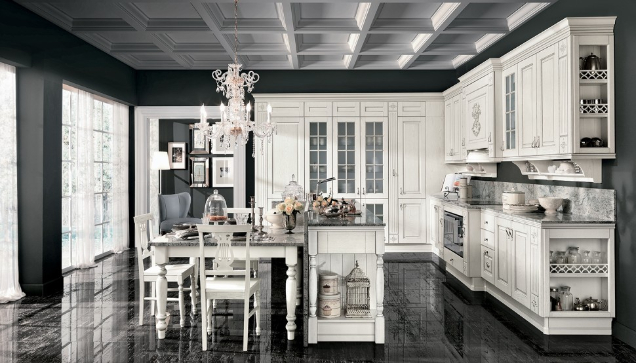 Colombini Casa brings stylish elegance to one of the most functional rooms in the house, with one kitchen that offers endless customization possibilities to reflect a personal touch. It represents accessible Italian artisanship with carefully crafted units and designs that accentuate a mix of elegance and practicality. An Italian brand that respects its dedeication to high quality, Colombini Casa's globally recognized footprint is garnering much attention, especially in the UAE as one of Finasi's represented luxury brands.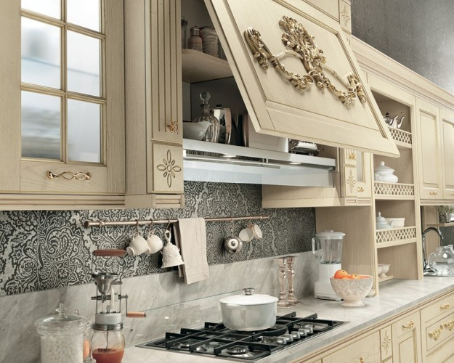 About Finasi LLC
Founded in Italy in the 1970's, Finasi has established itself as a quality-led and trustworthy interior, furnishing and fit-out provider, with operations in Europe and the Middle East. The company has delivered interior projects to numerous blue-chip companies, hotels, retail boutique chains and private clients. Finasi also works with government and semi-governmental entities in Europe and Middle East. Global experience combined with in-depth local knowledge allows Finasi to deliver world-class design solutions, and the company enjoys a reputation for quality workmanship and reliability in creating modern and efficient design solutions. Its wide range of services includes interior design and feasibility studies, interior fit-out construction, space planning, furniture, furnishings and equipment [FFE] selection, procurement and installation.