YOUTOOL presenta a Open Design Italia 2012 i primi 4 complementi di arredo prodotti da CURTI METALLO span> è stato modificato: 2012-11-25 span> di
Non esiste separazione tra idea e progetto, tra virtuale e reale. In qualità di agenzia per il design, YOUTOOL // design out of the box è stato invitato a Open Design Italia 2012 per presentare i primi prodotti derivati dall'esperienza di workshop on-line organizzato per Curti Metallo, nuovo marchio nato per gemmazione da Curti Lamiere, impresa storica bolognese specializzata nella lavorazione dei metalli che oggi si afferma azienda leader nel coniugare tradizione
artigianale e innovazionetecnologica.
Un case history che riassume il rapporto creato grazie al web 2.0 tra azienda e designer: una nuova e originale collezione di arredi pensata, progettata, realizzata e venduta all'interno della filiera creativa YOUTOOL.IT.
On-line dal 2011, YOUTOOL // design out of the box sostiene la passione per il design quale valore e strumento che trasforma le idee in progetti e i progetti in prodotti funzionali e senza tempo. Attraverso il metodo dei workshop on-line, YOUTOOL // design out of the box seleziona dal web i migliori designer per sviluppare idee di qualità, riducendo tempi e costi di realizzazione, e offrire alle aziende progetti di design innovativi, oltre a servizi di ideazione, produzione, comunicazione e vendita dei prodotti risultati dai laboratori on-line.
A Venezia, nell'edizione di Open Design Italia 2012 –appuntamento internazionale dedicato al design autoprodotto e alla piccola serie che inaugura il 23 novembre presso gli ex Magazzini Ligabue, all'interno di Venezia 2019 -Salone Europeo della Cultura, in gemellaggio con Berlino e DMY, International Design Festival Berlin –quattro sono i prodotti che YOUTOOL // design out of the box espone, frutto di sinergie progettuali sviluppate tra i progettisti selezionati e Curti Metallo.
Questi primi quattro complementi di arredoprodotti da Curti Metallo si qualificano come oggetti oltre l'ordinario, dotati di carica identitaria e sense of humor: il coffee-table EL SOMBRERO, la seduta ICS e lo sgabello SADDLE,tutti a firma dei torinesi di STUDIO06 che sfidano pesi e spessori della lamiera per raggiungere risultati di estrema leggerezza, complice il colore che mimetizza il materiale e spalanca a interpretazioni formali divertite…Chapeau!
Con APERTA PARENTESI, Sara Verlicchi si fa poetica interprete di un appendiabiti modulare replicabile all'infinito, che dal suolo prende linfa come albero allungato verso il cielo.
EL SOMBRERO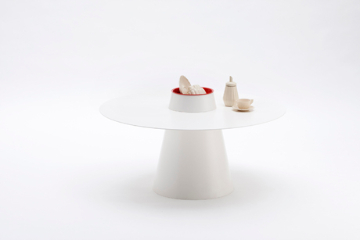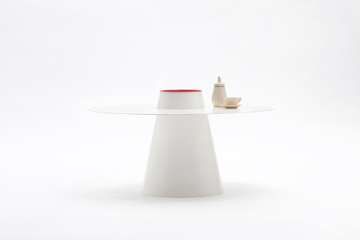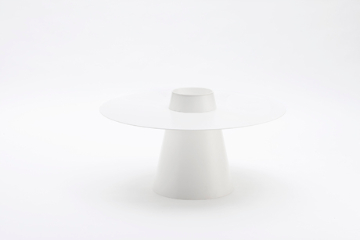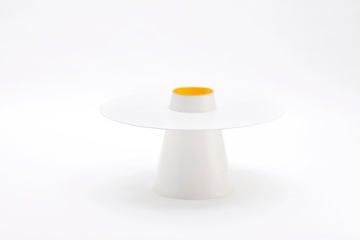 è un coffee-table disegnatodaStudio 06 per YOUTOOLe prodotto da Curti Metallo nel 2012.
La purezza della forma e le proporzioni studiate nel dettaglio rendono EL SOMBRERO un oggetto del desiderio ironico.
Il tavolo basso, in ferro verniciato a polvere, è disponibile in tre finiture colore: tutto bianco, bianco con contenitore centrale rosso, bianco con contenitore centrale giallo becco d'oca.
La ricerca nella composizione e la semplice modularità costruttiva consentono il montaggio in tre mosse e quattro viti.
Per il carattere iconico e la forte identità, EL SOMBREROè adatto sia agli spazi casa sia a contesti contract. La moltiplicazione dei pezzi lo rendono un complemento scenografico per arredare hall di hotel, showroom, uffici e sale di attesa.
Dimensioni: D.90 cm – H. 48 cm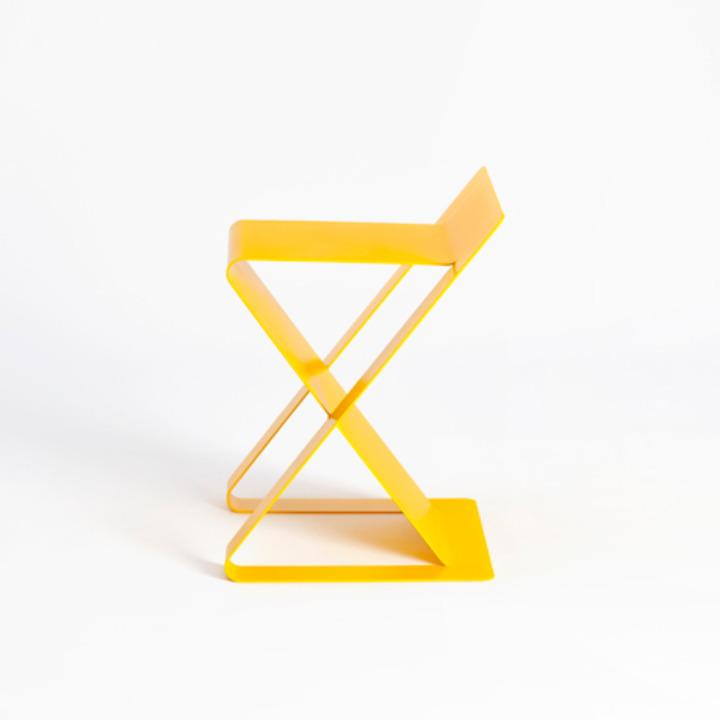 Seduta ICS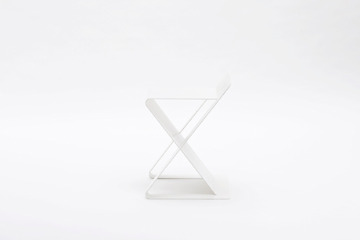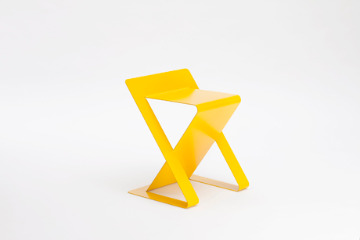 ICS è una seduta progettata da Studio 06 per YOUTOOLe prodotta da Curti Metallo nel 2012.
L'essenzialità del disegno e le dimensioni composte rendonoICS un oggetto molto versatile. La seduta è realizzata dalla piega di un unico foglio in lamiera di ferro e per questo raggiunge risultati visivi di estrema leggerezza, come un origami.
ICS è disponibile in tre colori: bianco, rosso, giallo becco d'oca. La chiara riduzione compositiva rendono ICS, di nome e di fatto, adatto per arredare ambienti
intimi e spazi collettivi.
La stilizzazione rende ICS una seduta trasversale e di grande appeal.
Dimensioni: L.45 cm – P.40 cm – H. 56cm
SADDLE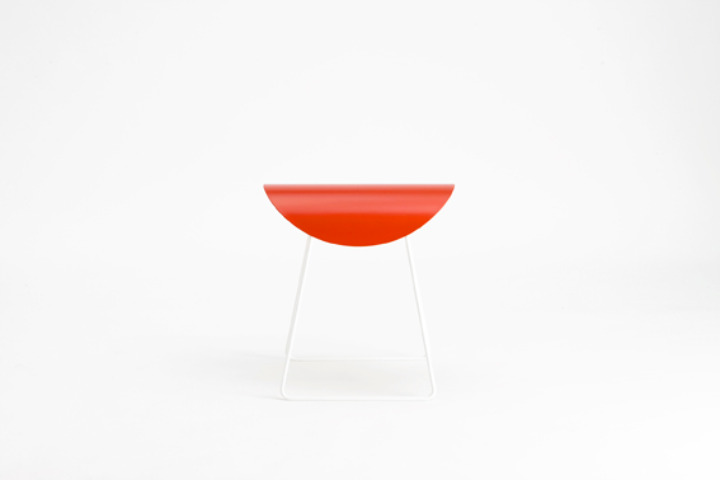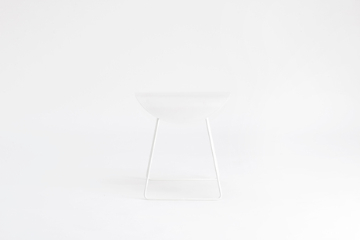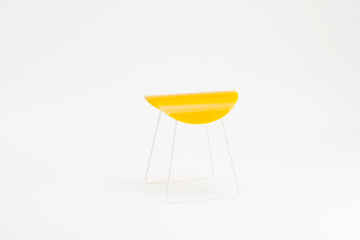 Saddle è uno sgabello progettatodaStudio 06 per YOUTOOL e prodotto da Curti Metallo nel 2012.
La seduta è realizzata dalla piega di un unico foglio in lamiera che imita la sella dei cowboy e invita a cavalcare l'oggetto.
Le dimensioni ridotte e la linearità della struttura a slitta consentono a Saddle di essere impilabile.
Saddle è disponibile in acciaio cromato o con struttura bianca, verniciata a polvere, con
declinazione della "sella" in tre colori: bianco, rosso, giallo becco d'oca.
La semplicità formale conferisce a Saddle, di nome e di fatto, un forte carattere scultoreo.
La resistenza dell'oggetto si coniuga alla leggerezza del disegno, rendendo Saddle versatile per interni intimi e spazi contract.
Dimensioni: L.45 cm –P.35cm –H. 45cm
Per maggiori informazioni: www.youtool.it