ART BY CT – Toyota Motors Korea span> è stato modificato: 2022-06-03 span> di
ART BY CT was a promotional project that commemorated the Korean launch of the NEW CT 200h Lexus Hybrid.
Creative agency designfever was responsible for the planning and promotion of the collaboration between Lexus and Korean urban artists using the theme 'URBAN REFLECTION – CT that resembles the city, The city that resembles CT'.
The goal was able to create various avenues for users to experience the charm of the New CT200h both on and offline through the Pop-up Page and Pop-up Gallery, demonstrating the unique colors and styles that have ne never been seen in compact hatchbacks.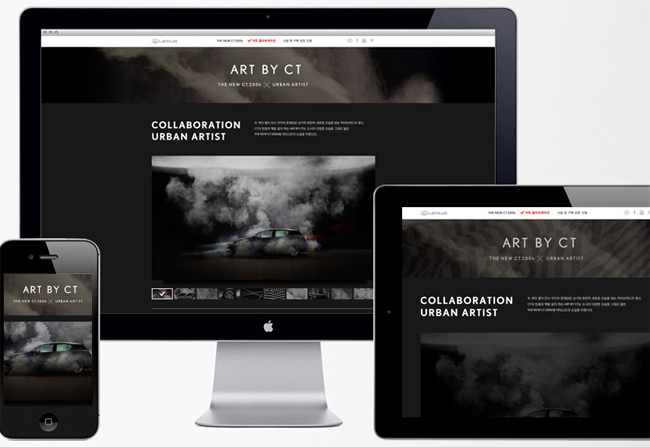 Originally released in 2011, the CT200h was upgraded and debuted as The NEW CT200h. Using the slogan 'Tempting the City' a sophisticated two-tone black rope design was applied to the cars exterior. designfever emphasized the progressive style and design of the NEW CT200h using the concept 'The Perfect Car for Your Urban Lifestyle'. Urban Artists like graphic designer GyuHyeok Jung and photographer MoonMo Yang created diverse 'works' that were inspired by The New CT200h, delivering the urban experience to the user.
The 10 works featuring The New CT200h reflected different facets of the urban lifestyle including a city's festivals, dawn in the city, and a city's purity. In order to convey an art exhibition, a pop-up page featured all 10 images, including their patterns and descriptions. The web version included a special video production and both PC and mobile versions made wallpaper downloads available in order to introduce The New CT200h to as many people as possible.





To provide an authentic offline experience, a Pop-up Gallery was opened up in front of Lotte Department Store on April 2nd, 2014, giving people a change to directly experience the New CT200h and complete a test drive application. These pop-up galleries extended to department stores across the country, as well the Busan International Motor Show from May 30th ? June 8th.