designfever / Samsung OLED TV Microsite span> è stato modificato: 2022-06-03 span> di
A microsite full of color
Samsung Electronics' 'OLED TV' is a micro and mobile site created to cater to a global audience for the overseas launch of Samsung's OLED TV products. As the phrase 'Life in Every Pixel' suggests, the curved OLED TV makes pictures come alive by utilizing a curved shape that brings elements of luxury into the home. designfever wanted to simultaneously present the elegant design and functionality of the Samsung OLED TV.
Users get a clear understanding of the numerous features found on the product while understanding the benefits of such a unique and comfortable viewing experience through the use of lively interactions.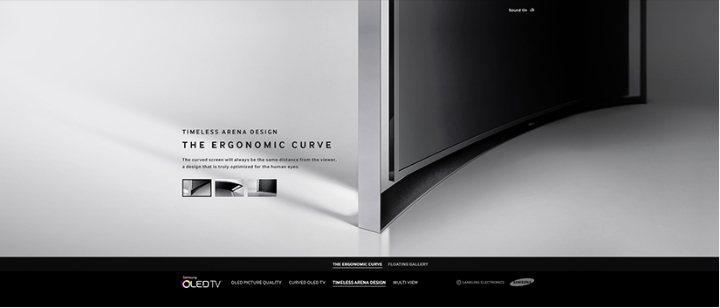 A premium design that demands attention
The site attempts to mimic the curved beauty and luxurious feel of the OLED by creating a minimalist website that focuses on product images. Various shots of the TV at different angles against a monotone background provide a sense of space that allows users to focus on the essence of the product. The images, typography, and background were configured to be stationary in order to reflect the clarity that is found on Samsung's OLED TVs.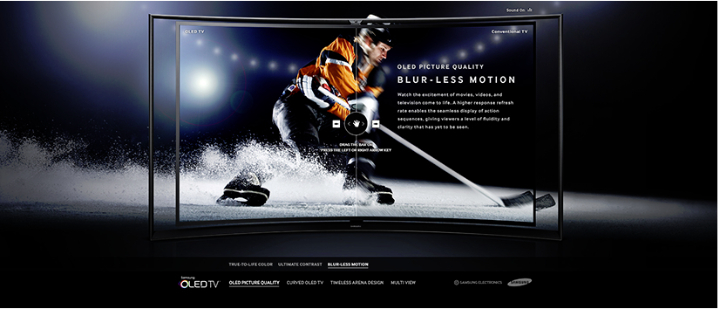 Delicate interactions provide direct comparisons
Small interactions were created to ensure that allows users experience the rich image quality of the OLED TV online. Using the 'OLED Picture Quality' menu, users can compare the noticeable differences between the picture quality of a common television against an OLED TV by simply using keyboard or mouse to move left or right.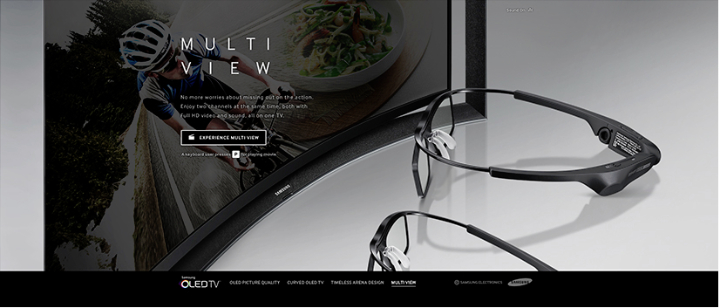 Watching videos that introduce features
One of the most compelling features of the Samsung OLED TV is 'multi-view', a function that allows two channels to be watched simultaneously on the same screen. The website demonstrates how the quick response time of the OLED TV allows for different content to be played and heard when wearing special glasses.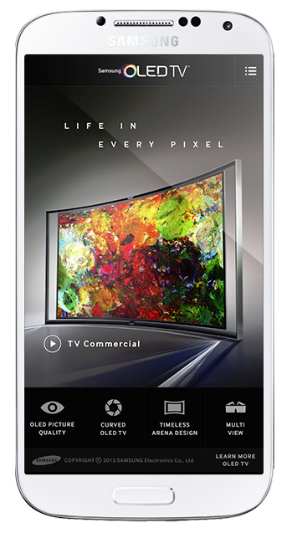 Retaining beauty on the mobile web
In addition to the microsite, a minimal and elegant mobile site also projects the beauty found in the Samsung OLED TV. Due to the impossibility of interaction that is found on a PC, the mobile site utilizes uncluttered typography and images to revel the luxury of the product.