"Home Stage" la mostra del Padiglione dell'Estonia alla 18a Mostra Internazionale di Architettura della Biennale di Venezia span> è stato modificato: 2023-03-18 span> di
Il Padiglione dell'Estonia alla 18a Mostra Internazionale di Architettura della Biennale di Venezia, dal 20 maggio al 26 novembre 2023, presenta la mostra "Home Stage" curata da Aet Ader, Arvi Anderson e Mari Möldre del b210 Architects. La mostra esplora la contraddizione tra lo spazio abitabile inteso come casa e come valore di scambio.
La mostra si svolge all'interno di un appartamento veneziano in affitto vicino all'uscita posteriore del complesso dell'Arsenale. Diversi performer estoni vivranno a turno all'interno dell'appartamento per un mese, trasformando lo spazio sia in casa che in palcoscenico.
La Biennale Architettura 2023 è curata dall'architetto e scrittrice Lesley Lokko con il tema "The Laboratory of the Future" e immagina la mostra come una sorta di officina, un laboratorio dove architetti e professionisti di discipline creative portano esempi dalle loro pratiche contemporanee tracciando un percorso che il pubblico può intraprendere, immaginando ciò che può riservare loro il futuro.
"Home Stage" riflette sulla dicotomia case e immobili, sogni e realtà, inquilini e proprietari, residenti e ospiti. La casa non è più solo da vivere: l'investimento e la speculazione sono diventati lo scopo principale di un numero sempre maggiore di abitazioni, mentre i prezzi degli immobili e degli affitti continuano a crescere.
I performer si concentrano su situazioni domestiche quasi grottesche, dove i sogni si scontrano con la realtà, i proprietari con gli inquilini, i venditori con gli acquirenti, l'intimità con l'alienazione. Ogni performance, della durata di 1 ora e 30 minuti, si svolgerà nell'arco della giornata nelle diverse stanze dell'appartamento. Alcune situazioni coinvolgeranno i visitatori, altre li spingeranno a godersi il riposo e gli ambienti domestici.
I curatori hanno progettato un percorso per i visitatori. Il viaggio inizia dalla strada, dove saranno posizionati quattro divani-sedute di legno per far attendere e riposare i visitatori prima di accedere all'appartamento. Entrando dal portone principale, si arriva a un corridoio, dove, durante i sei mesi, una parete bianca sarà dipinta ripetutamente da ogni performer.
Il soggiorno e la cucina ospitano un cabinet of curiosities a parete riempito di diversi manufatti: documenti, sculture, oggetti sorprendenti e curiosi, e memorabilia, insieme a una selezione di particolari utensili da cucina. La camera da letto è caratterizzata da un'installazione, un soffitto a specchio, dotato di leggeri pannelli riflettenti; mentre il bagno è il palcoscenico di "una fontana di lavandini", dove i rubinetti dei lavabi e della vasca da bagno animeranno lo spazio e occasionalmente si scontreranno. Infine, i visitatori si troveranno di fronte a una porta chiusa che verrà aperta a discrezione del performer: una stanza vuota con nuvole di polvere e lanugine soffiate da quattro aspirapolvere.
L'attenzione è posta anche sulla natura effimera dell'appartamento stesso, che non è di proprietà dell'Estonia né degli artisti, ma affittato per il periodo della mostra. Questo aspetto sottolinea ancora una volta l'importanza del tema dell'investimento immobiliare e della speculazione nella società contemporanea.
La mostra "Home Stage" è un'occasione per riflettere sulla questione dell'abitare, della casa e della proprietà, ma anche sulla natura effimera e temporanea delle esposizioni d'arte contemporanea. Il Padiglione dell'Estonia ha scelto di esplorare questi temi attraverso la performance e la partecipazione attiva dei visitatori, creando un'esperienza coinvolgente e stimolante.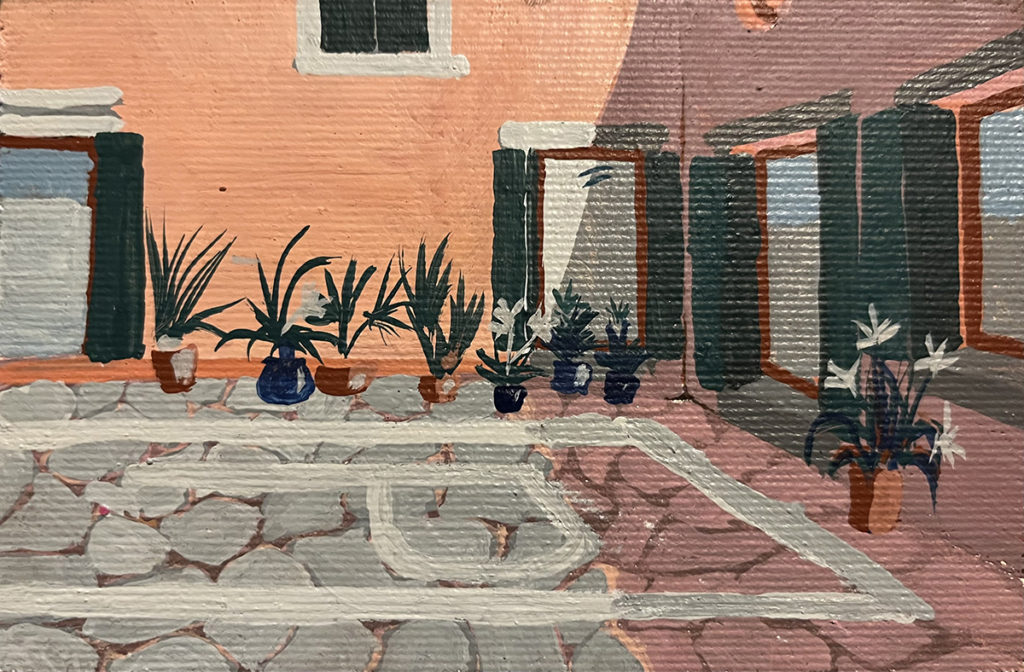 CREDITI & PARTNER
Mostra: Home Stage
Indirizzo: Salizada Streta 96, Venezia
Orari di apertura
Maggio 2023 (Martedì – Domenica; 11:00 – 19:00)
Giugno – novembre2023 (Mercoledì – Domenica; 11:00 – 19:00)
Curatori: Aet Ader, Arvi Anderson, Mari Möldre (b210 Architects)
Commissario: Raul Järg (Estonian Centre for Architecture)
Produzione: Anna Lindpere, AnuLill (Estonian Centre for Architecture)
Team: Liisa Saaremäel (stager e performer), KeithyKuuspu (stager e performer), ArolinRaudva (performer), Kirill Havanski (performer), AnumaiRaska (performer), KülliTeetamm (performer), ElineSelgis (performer), Paula Veidenbauma (performer), Johhan Rosenberg (performer), JanKaus (drammaturgo), KadriKlementi (testi), MargusTammik (soluzioni tecniche), Markus Robam (sound designer), KairiMändla (scenografo), KertinVasser (fotografia)
Partner: Cultural Endowment of Estonia, Estonian Ministry of Culture
Sponsor: Thermory
Grazie a: Eik Hermann, Viljar Arakas, Karin Tõugu, Mari Hunt, Katrin Koov, Kristian Taaksalu, Nele Šverns