Cuccia per gatto TUNNEL ha vinto premio di design internazionale Red Dot 2018! span> è stato modificato: 2018-08-20 span> di
Premio per l'alta qualità del design: Tunnel Betacryl è sigillato Red Dot
La giuria Red Dot ha preso la sua decisione. Dopo che tutti i prodotti presentati sono stati testati e valutati individualmente nel corso di un processo di valutazione che durava alcuni giorni, il prodotto TUNNEL Betacryl disegnato dall'architetto Pierangelo Brandolisio e fabbricato da Brandodesign ha ricevuto la distinzione Red Dot. Il gruppo di esperti assegna il sigillo di qualità riconosciuto al livello internazionale solo ai prodotti di alta qualità di design.
Tunnel Betacryl
Una cuccia per gatti realizzata con materiale betacryl, un modello dalle linee essenziali, per gli amanti del minimal. Al suo interno è posizionato il cuscino in microfibra rinforzata o in pelle ricamata. Le fessure ricavate con taglio laser sono pensate per offrire al gatto la possibilità di osservare lo spazio intorno senza essere visto. L'istinto felino è esaltato dal supporto Cavaliere, realizzato in acciaio inox, ispirato alle gambe dell'omonimo uccello, che rendono l'oggetto leggermente mobile e danno la sensazione all'animale di essersi arrampicato su di un albero.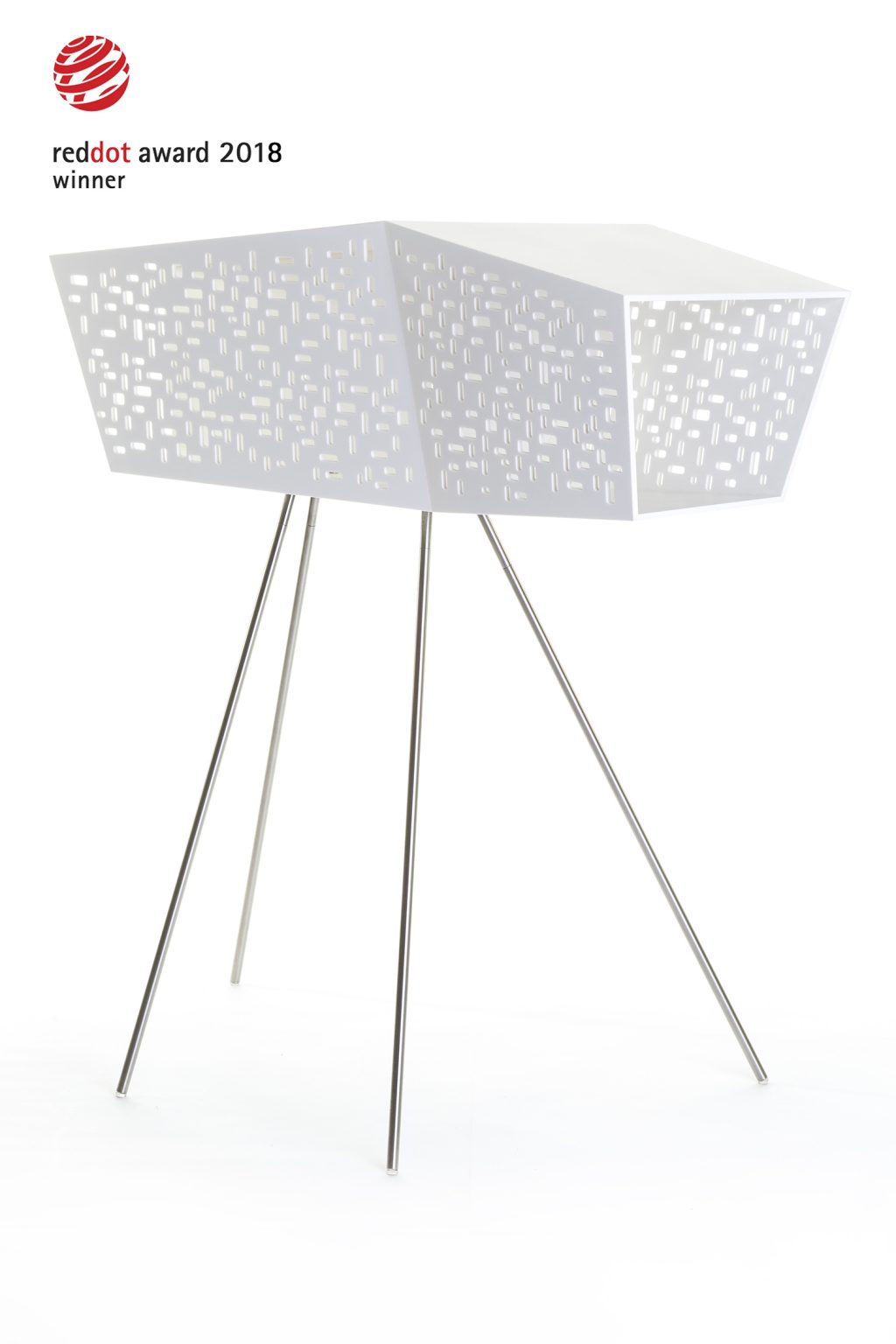 Piattaforma di valutazione per un buon design
La Re Dot Award: il design del prodotto ha radici risalenti al 1955 e determina i migliori prodotti creati ogni anno. Nel 2018 i designer e produttori provenienti da 59 paesi hanno presentato più di 6.300 oggetti alla competizione. Fedele al motto "alla ricerca di bello design e dell'innovazione", la giuria composta da circa 40 membri ha valutato individualmente gli originali dei prodotti.
I rigorosi criteri di valutazione, quali includono il livello di innovazione, funzionalità, qualità formale, ergonomia e durabilità, hanno fornito un quadro di riferimento quale i membri della giuria hanno completato con le proprie competenze.
Sono stati premiati tre diverse distinzioni: The Red Dot: Best of the Best è riservato ai migliori prodotti in categoria; Red Dot è una distinzione del design di alta qualità. Mentre Honourable Mention è conferita alle migliori progettazioni realizzate.
"Congratulazioni sincere a tutti i vincitori del premio per il loro meraviglioso successo nella Red Dot Award: Product Design 2018. Il successo in competizione è una prova della buona qualità del design di prodotti e dimostra ancora una volta che le aziende sono in una strada giusta. Quando io parlo del buon design mi riferisco a qualcosa in più del solo prodotto attraente. Tutti i prodotti sono caratterizzati dalla funzionalità eccezionale. Questo dimostra che i designer hanno percepito i loro clienti con le loro esigenze," – ha detto professore Dottor Peter Zec, fondatore e amministratore delegato Della Red Dot Award.
Celebrazione per onorare i vincitori
I vincitori saranno Premiati con cerimonia in Red Dot Gala il 9 luglio 2018, presso la citta di Essen, Germania.
The Red Dot: Best of the Best vincitori riceveranno i loro meritati trofei sul palco del teatro Aalto dell'Opera a Essen durante la cerimonia di premiazione.
Alla successiva notte dei designer nel Red Dot Design Museum a Essen, i vincitori Red Dot riceveranno i loro certificati e potranno festeggiare insieme il oro successo nel mezzo dei prodotti premiati, cosi il festeggiamento diventerà l'introduzione alla mostra. Per un periodo di quattro settimane la mostra speciale "Design on Stage – Winners Red Dot Award: Product Design 2018" rappresenterà le innovazioni premiate come parte della più grande esposizione al mondo di design contemporaneo.
Il giorno di Red Dot Gala coincide con pubblicazione della Red Dot Design Yearbook 2018/2019 quale mette in mostra tutti i prodotti vincitori. Inoltre, essi possono essere trovati nella Mostra Online , in Red Dot App e in Red Dot 21 da quella data.
Brandodesign
Brandodesign, spin-off di uno studio di architettura friulano crea oggetti d'arredo dedicati al mondo Pet.
Brandodesign nasce nel 2015 da un'attenta riflessione dell'Architetto Pierangelo Brandolisio che per far fronte alle esigenze del suo Akita Americano, si appassiona al mondo ancora inesplorato del pet design. Affascinato e sensibile verso gli animali, sempre più coinvolto emotivamente dallo scambio tra animale e uomo, l'architetto realizza prodotti innovativi per l'arredamento, con caratteristiche specifiche per cani e gatti, dove il design si fonde con il comfort, adattandosi alle esigenze specifiche dei nostri animali. Da sempre legato alla regione del Friuli Venezia Giulia, antica terra ricca di risorse naturali tra cui legni pregiati, trasforma questi in esclusivi complementi d'arredo. Ulteriori informazioni sono disponibili su www.
Red Dot Design Award
Al fine di valutare la diversità nel campo del design in modo professionale, il premio Red Dot Design si divide in tre categorie: Product Design, Red Dot Award: Communication Design and Red Dot Award: Design Concept. La Red Dot Award è una delle più grandi competizioni di design nel mondo. Nel 1955 la giuria si riunisce per la prima volta per valutare i migliori design del giorno. Negli anni 1990 l'amministratore delegato di Red Dot, il professore dottor Peter Zec, ha ideato il nome e il marchio del premio. Da allora, il rinnomato premio Red Dot è stato il venerato sigillo internazionale di eccezionale qualità del design. Ulteriori informazioni sono disponibili su www.red-dot.de