"Cristalplant Design Contest 2014": due vincitori e una menzione span> è stato modificato: 2022-06-03 span> di
Per l'edizione 2014, la numero sei, i giovani designer che hanno partecipato al "Cristalplant® Design Contest" si sono confrontati con la progettazione di una linea completa, oppure prodotti indipendenti, per l'arredo bagno.
Un'opportunità, quella offerta dal contest noto a livello internazionale, che è stata colta da molti. I progetti si sono distinti per la creatività e l'innovazione. Ad aggiudicarsi il primo posto, però, le proposte che hanno saputo combinare in maniera più corretta l'aspetto estetico con quello funzionale, cogliendo da un lato le peculiarità tecniche e tecnologiche del Cristalplant Biobased, dall'altro lo stile di Agape, un'azienda con un carattere e una cultura ben definiti.
Nell'ambito dei complementi per l'arredo bagno, la giuria ha scelto di assegnare il primo premio a Paolo Lucidi e Luca Pevere che si sono presentati con il progetto "Canal Grande". Entrambi laureati al Politecnico di Milano, si sono formati professionalmente con Marc Sadler e Marco Ferreri.
Hanno cominciato a firmare i primi progetti assieme nel 2003 e nel 2006 hanno fondato lo studio LucidiPevere. Attraverso le loro proposte cercano di confrontarsi sempre con nuove tipologie di prodotto, contaminandole con linguaggi estetici e tecnologie inedite, alla continua ricerca della loro giusta espressione.
"Canal Grande" è un progetto che nasce da una memoria fatta di storie, profumi e forme e che materializza in sé alcuni segni di un'epoca e di un oggetto simbolo, il lavatoio.
Originariamente in pietra o in cemento, era utilizzato da tutte le donne e corredato da una tavola in legno su cui si lavavano i panni con l'acqua del fiume. Uno strumento oggi in disuso ma fortemente sedimentato nell'immaginario comune.
Da questi ricordi nasce "Canal Grande" il cui elemento distintivo è proprio l'ampio piano d'appoggio che si sviluppa sul lato lungo della vasca: quest'appendice è stata pensata leggermente in pendenza per permettere lo scolo dell'acqua, sintesi e reinterpretazione del piano su cui si battevano i panni. Un rimando formale che oggi serve come comodo e profondo ripiano per appoggiare gli oggetti che vivono attorno al mondo del wellness.
Ulteriore richiamo al passato è la lunga mensola in legno naturale idealmente pensata per il sapone e la spugna. Il Cristalplant Biobased gioca un ruolo determinante nel progetto in quanto consente di integrare con facilità e coerenza il corpo vasca con il piano d'appoggio. Il candore tipico di questo materiale ben si sposa con l'idea di pulito che i designers volevano trasmettere.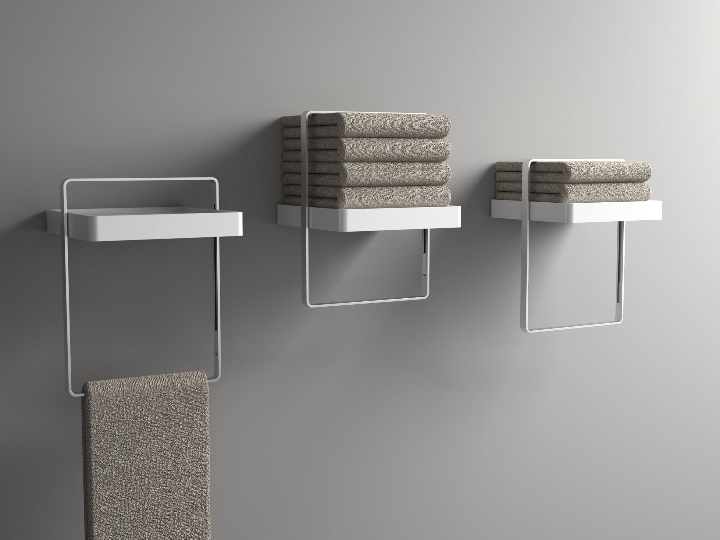 L'americano Cory Grosser si è invece conquistato il primo posto nella categoria accessori per l'arredo bagno, posizione raggiunta grazie al progetto "Slide Towel Shelf". Cory Grosser è nato a Rochester – NY – e si è laureato in Architettura presso la State University di New York, sede di Buffalo, e in Industrial Design presso l'Art Center College of Design. Il suo lavoro spazia fra diverse discipline che comprendono l'arredamento, il design di prodotto e il design tessile, la brand strategy e l'architettura. Grosser è anche membro della facoltà dell'Art Center College of Design di Pasadena, California.
"Slide Towel Shelf" è un prodotto che combina una mensola e un portasciugamani, perfetto per un arredo bagno dal gusto minimal.
Nella sua semplicità "Slide Towel Shelf" crea una composizione sulle pareti che fa pensare all'arte contemporanea. Il suo design unico consente di esporre gli asciugamani piegati nello spazio superiore e di appenderli, dopo l'uso, nella parte sottostante. Il tutto è possibile grazie a un anello realizzato in alluminio, finemente lavorato, che si può spostare a seconda delle necessità e che fa da cornice visiva alla composizione.
In termini estetici, il progetto si distingue per una logica pura che emerge dalle linee continue e dalle superfici fluide: oltre al design pulito è da subito evidente la praticità di utilizzo e l'unicità del materiale con cui è realizzato, il Cristalplant Biobased.
Domenico Orefice e Michela Benaglia hanno invece ricevuto la menzione speciale della giuria con "Renaissance Retro Contemporary Aesthetic".
I progetti vincitori e la menzione sono stati presentati in anteprima in occasione del Salone del Mobile 2014 di Milano.
"Canal Grande" e "Slide Towel Shelf" entreranno a far parte del catalogo Agape dal 2015.
Maggiori informazioni su: www.cristalplant.it