stARTT per Elica / Eurocucina 2014 span> è stato modificato: 2022-06-03 span> di
Nell'ambito della 5a edizione di FTK – Technology For the Kitchen, Elica presenta al Salone del Mobile la nuova collezione di cappe da cucina e le aree di innovazione tecnologica che influenzeranno l'ambiente cucina per i prossimi anni.
Coerentemente con la propria visione e con lo sguardo sempre rivolto al futuro, Elica si è affidata, per il progetto dello stand, al pluripremiato studio di architettura e trasformazioni territoriali stARTT.
"La scelta di affidarci a uno studio come stARTT, fortemente innovativo e con una visione aperta e creativa sull'ambiente che ci circonda", commenta Francesco Boromei, Chief of Marketing dell'azienda, "è del tutto coerente con il percorso intrapreso da Elica, in perfetto equilibrio tra know-how tecnologico, ricerca, attività produttiva, attenzione all'ambiente e sensibilità per l'arte contemporanea".
Lo studio stARTT, fondato a Roma nel 2008, ha ricevuto numerosi riconoscimenti internazionali, tra cui il premio europeo YAP MAXXI 2011 per l'architettura under 35. Al suo attivo, inoltre, "La jeune architecture européenne" presso il Pavillon de l'Arsenal de Paris e la mostra "FUTURE: Architecture e(s)t Paysage" a Parigi. Attualmente i lavori dello studio sono esposti alla Biennale di Shenzhen e Hong Kong e presenti nella mostra itinerante Piccole Utopie, sull'innovazione italiana in architettura.
Il concept originale sviluppato da stARTT per ospitare il mondo di Elica e i suoi rivoluzionari sistemi per il trattamento dell'aria in casa, all'insegna di tecnologia, design e innovazione prende la forma di un anello luminoso, sospeso, che racchiude un giardino, un esterno domestico ombreggiato e protetto dalle fronde degli alberi, contrapposto all'artificialità degli spazi circostanti.
Identità e logo dell'azienda, che ha rivoluzionato il mondo delle cappe da cucina, sono rappresentate all'esterno dell'anello, mentre al suo interno si intravede una superficie specchiante che riflette la vibrazione delle foglie e i movimenti delle persone, inducendo ad un gioco di rimandi.
La posizione degli alberi è accuratamente studiata per creare una sequenza di spazi, in un'alternanza di aperto-chiuso, stretto-largo, bosco-radure, denso-poroso, volta ad esaltare, in una sorta di installazione artistica, le caratteristiche di forma e materiali dei prodotti Elica esposti. Tra le piante si scoprono i diversi ambienti dello stand, dedicati a funzioni specifiche: l'accoglienza, le salette per riunioni, una zona conviviale, aree di passaggio ed espositive.
EuroCucina 2014 sarà anche l'occasione per lanciare il marchio GUTMANN in Italia – acquisito da Elica nel 2008 – e introdurre le ultime creazioni tailor made che uniscono il design italiano e la tecnologia tedesca.
Allo studio stARTT è stato affidato anche l'allestimento della mostra che Elica organizzerà per il Fuorisalone nel suo Showroom di via Pontaccio 10. La mostra Middle-Earth. A Journey inside Elica sarà curata da Alessandro Dandini de Sylva e Marcello Smarrelli, direttore artistico della Fondazione Ermanno Casoli, con fotografie di Fabio Barile e Francesco Neri.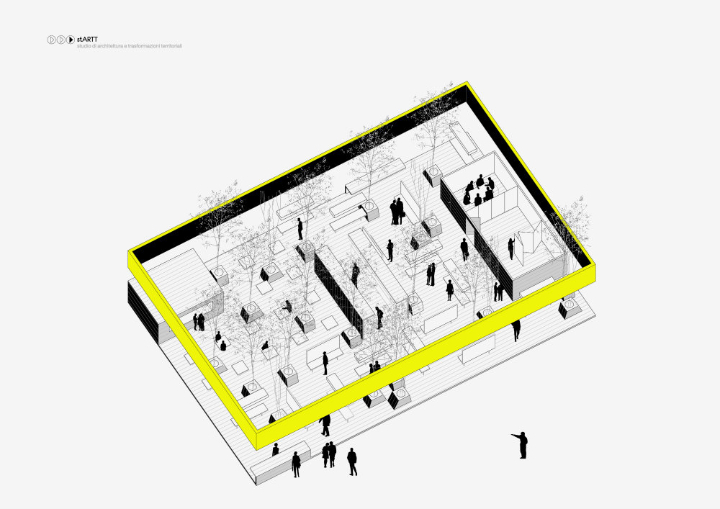 Maggiori informazioni su: www.elica.it