Lexus' New Generation IS Microsite span> è stato modificato: 2022-06-03 span> di
A dynamic interactive microsite was created to coincide with Korean launch of the Lexus' luxury sedan, the New 2014 Generation IS. The NEW IS is the 3rd generation IS sedan from Lexus. It was completely redesigned based on the concept of 'fun to drive'. The New IS features an attractive sporty exterior and upgraded engine performance.
designfever was responsible for the production and design Lexus' NEW IS micro and mobile site, incorporating active animations to exemplify the dynamic performance and sensuous style of the vehicle. The goal was for people to fully understand the charm of the NEW IS in a site that maintains the same integrity as the vehicle's excellent performance and stylish design.
The innovation and dynamism of the NEW IS
The main page is configured using geometric lines and patterns that take visual inspiration from the car's sleek design elements, such as the spindle grille and LED daytime running lights. Each pattern was designed to move when the user's mouse hovers over the geometric pattern, simulating the dynamic and youthful feel of the NEW IS. This allows to expressive the innovative evolution of the NEW IS while at the same time increasing user's expectations.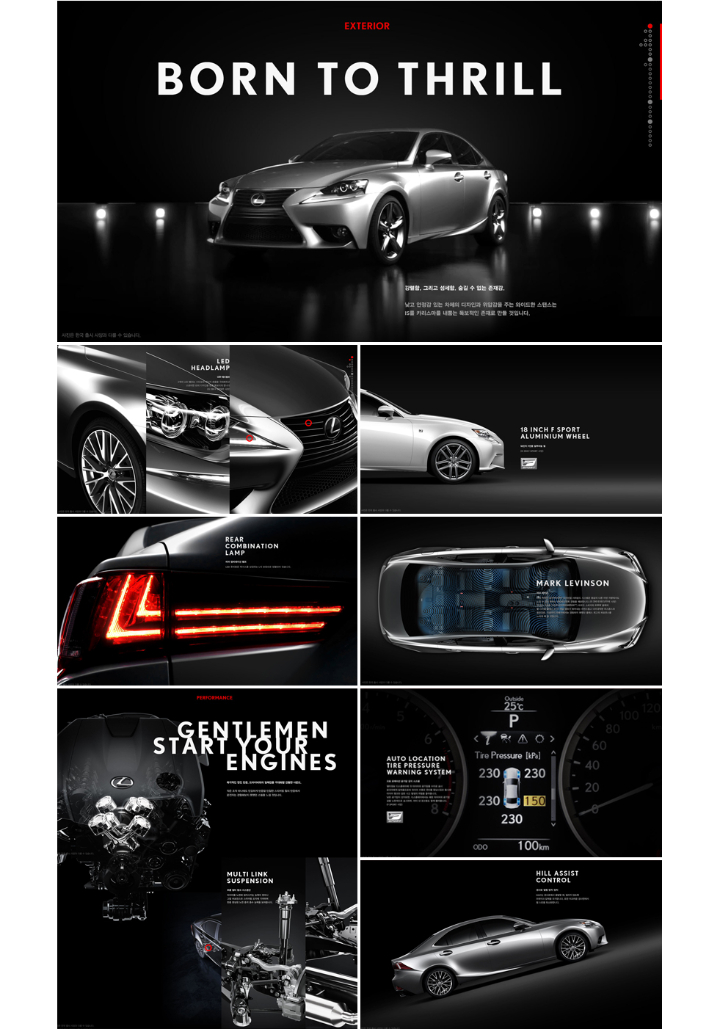 A seamless connection to content
There is seamless connection between the images and text of the 'NEW GENERATION IS' menu and the 'FEATURES' menu of the microsite. Rather than using the existing method of transitioning page by page to find more information on a website, the microsite is designed to provide an exotic user experience through interesting transition interactions. Taking advantages of HTML5, moving images and text creates an organic story that introduces the NEW IS. Users can indirectly experience the strong performance of the NEW IS while browsing content via their keyboards direction keys or with the scrolling of a mouse.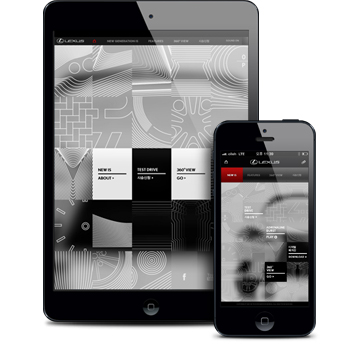 Experience the detailed design of the NEW IS in a website
Simple images and text cannot capture the gaze of the user. By incorporating animation into bright and intense visuals, the user makes an immediate connection to the content. In addition, the site is designed in a way that provides information in the most efficient way, focusing on the features of Lexus IS 250 that users are most curious about such as Exterior, Interior, Performance, and Safety. Users can explore every corner and feature of the car by simply scrolling the mouse or using the keyboard, creating a seamless story of the NEW IS.
Client: http://lexus.co.kr/newis/
Agency: http://designfever.com